pink march to Kongara Kalan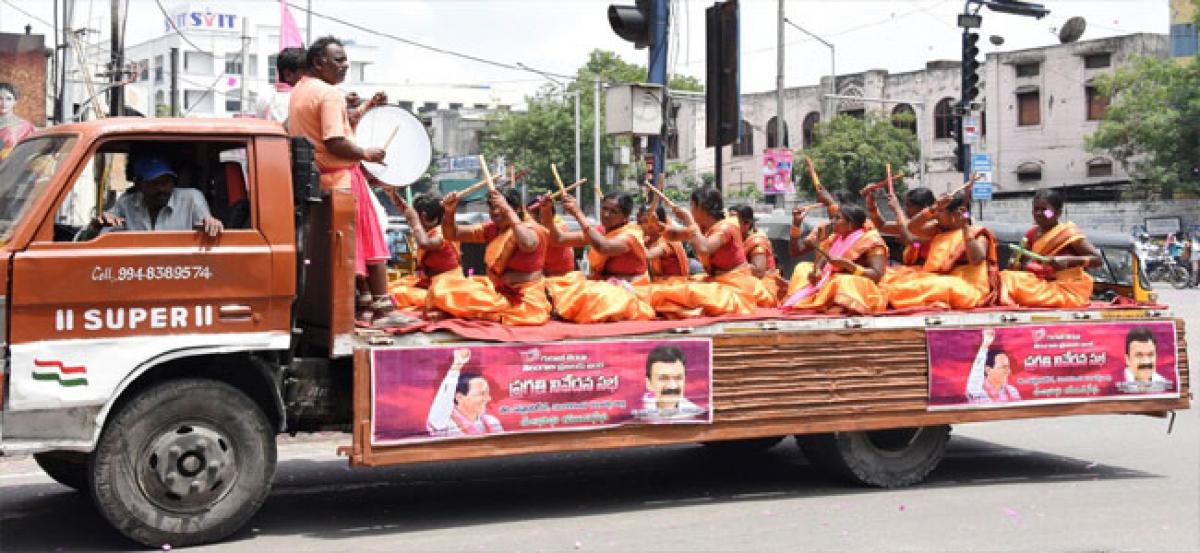 Highlights
The whole city was draped in pink hue as thousands were mobilised by corporators from each division who headed for the Pragathi Nivedana Sabha at Kongara Kalan on Sunday Men, women and teenagers were seen on cars, jeeps, tractors and bikes and the air resonated with slogans praising TRS and its chief KCR
Hyderabad: The whole city was draped in pink hue as thousands were mobilised by corporators from each division who headed for the Pragathi Nivedana Sabha at Kongara Kalan on Sunday. Men, women and teenagers were seen on cars, jeeps, tractors and bikes and the air resonated with slogans praising TRS and its chief KCR.
Roads wore pink look as the rallies and vehicles with pink flags, and party men wearing pink shawls were spread as far as one can see. Rallies were flagged off and women carried bonalu pots on their heads marking the tradition of Telangana.
Party leaders mobilised a huge number of people to the party's prestigious meeting. The attendees of various divisions under GHMC limits took all modes of transport to reach the venue. Buses of RTC and private educational institutions were roped in for transport of the party cadre. Bike and cycle rallies by youth showcased exuberance as the party's flag waved throughout the route.