Prove charges, DS dares TRS leaders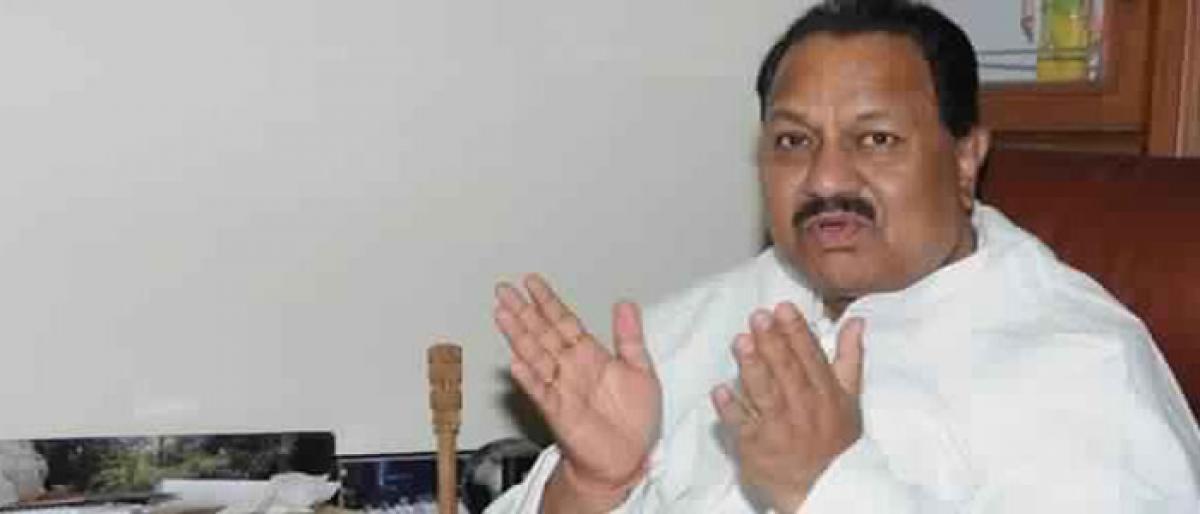 Highlights
Telangana Rashtra Samithi TRS leader and Rajya Sabha Member D Srinivas on Tuesday dared his party leadership either to take action against him or withdraw the resolution of Nizamabad district leaders, which sought his suspension from the party The veteran politician, addressing a press conference in Nizamabad on Tuesday, refused to admit that he had been involved in antiparty activities
​Hyderabad: Telangana Rashtra Samithi (TRS) leader and Rajya Sabha Member D Srinivas on Tuesday dared his party leadership either to take action against him or withdraw the resolution of Nizamabad district leaders, which sought his suspension from the party. The veteran politician, addressing a press conference in Nizamabad on Tuesday, refused to admit that he had been involved in anti-party activities.
He said that if party leaders in the district including Nizamabad MP K Kavitha were averse to his presence in the party, they can get him suspended. He recalled that the district leaders had recommended his suspension, but it had been pending for the last two months.
Recently, the party MLAs, MLCs and ZP leaders from Nizamabad district held a meeting and passed a resolution urging the Chief Minister and party supremo K Chandrashekar Rao for the suspension of Srinivas for indulging in anti-party activities like encouraging TRS workers and cadre to support his son and BJP leader Arvind. However, the CM Rao did not take any action on this and when he was asked about this, he said that the issue had been kept in abeyance.
Srinivas said that he had been a disciplined party worker in his 50 years of political life and added that he would not indulge in anti-party activities and deceive the party that he was a member of. "No one can question my love towards Telangana. Some people have branded me anti-party activist with baseless allegations," said Srinivas.
Srinivas pointed out that he himself had brought to the notice of the Chief Minister that his son was being active in BJP and that he had nothing to do with his political interests. "I have never talked in favour of BJP nor did I encourage my supporters to join BJP and I have made this clear to the Chief Minister twice. He said that what will happen if one person goes," said Srinivas. He said that his younger son Arvind was a fan of Prime Minister Narendra Modi and wanted to join BJP in 2011 itself. However, the family members stopped him, he added.
DS alleged that his son was falsely implicated by foisting fabricated charges against him. It was nothing but vendetta politics of the state government against him and his family. He challenged the party leaders to disclose the specific anti-party activities which he was being accused of carrying out.
Srinivas said that he never asked for a Rajya Sabha membership and only sought importance in the party. He observed that it would not do TRS any good to expel leaders one after the other. He also said that many of the ministers in the State cabinet were anti-Telangana.
Interested in blogging for thehansindia.com? We will be happy to have you on board as a blogger.