Congress celebrates Jenda Panduga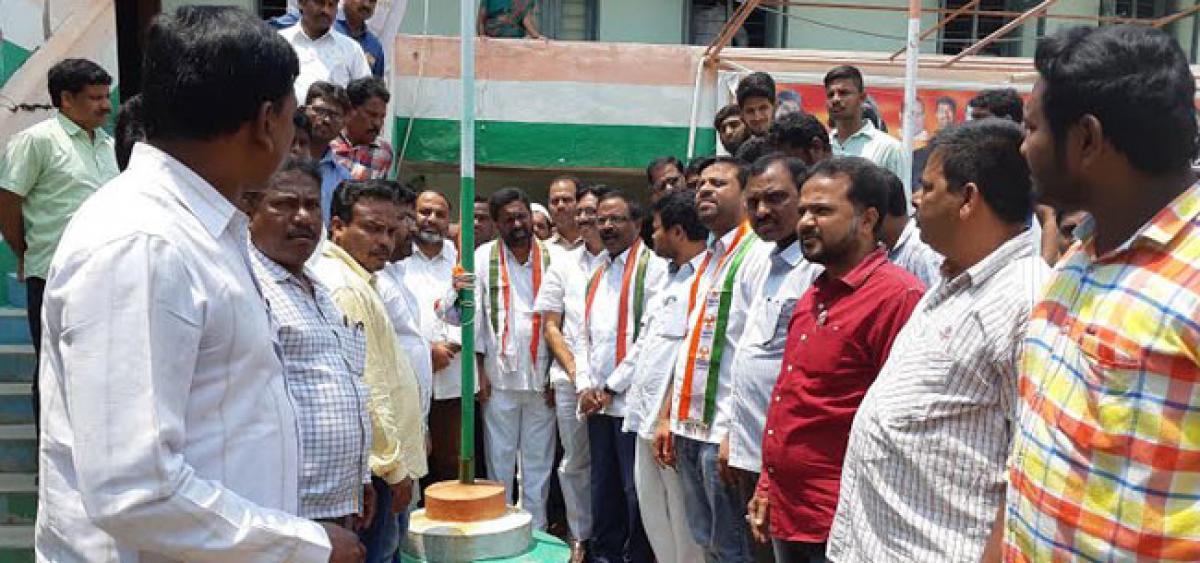 Highlights
The leaders and workers in the district celebrated the Jenda Panduga here on Tuesday DPCC Spokesman Puvvalla Durga Prasad unfurled the flag at premises of the Congress party office at Sanjeeva Reddy Bhavan in Khammam The TPCC is celebrating Jenda Panduga from Septembet 11 to 18 across the State
Khammam: The leaders and workers in the district celebrated the 'Jenda Panduga' here on Tuesday. DPCC Spokesman Puvvalla Durga Prasad unfurled the flag at premises of the Congress party office at Sanjeeva Reddy Bhavan in Khammam. The TPCC is celebrating Jenda Panduga from Septembet 11 to 18 across the State.
Speaking on the occasion, P Durga Prasad alleged that the State and Central governments are adopting anti-people's policies across the country and are neglecting the people's problems. Several political parties, people's organisations, educational institutions, shops, and cinema halls including other business centres were remained closed voluntarily for the Bharat Bandh call given by the AICC. By this one can understand how the BJP government at the Centre and TRS government in the state are suppressing the voice of the people, he said.
He thanked all those who participated in the Bharath Bandh programme voluntarily. He appealed to the Congress party activists to work like soldiers throw the BJP and TRS out of power to teach them a fitting lesson in coming up elections.
The Congress party leaders Y Balagangadhar Tilak, Md. Tajuddin, Md. Fazal, P Veerabhadram, N Naresh, Vanam Babu, Md. Isaac, Pradeep, B Gangadha, P Mallaiah, S K Zaheer, MD. Gouse, Ismail, D Shankar, S K Jhony, N Chandrashekar, Ahmed, Vinodamma and T Padma and others were present on the occasion.
Interested in blogging for thehansindia.com? We will be happy to have you on board as a blogger.