TRS leaders resorting to attacks: Congress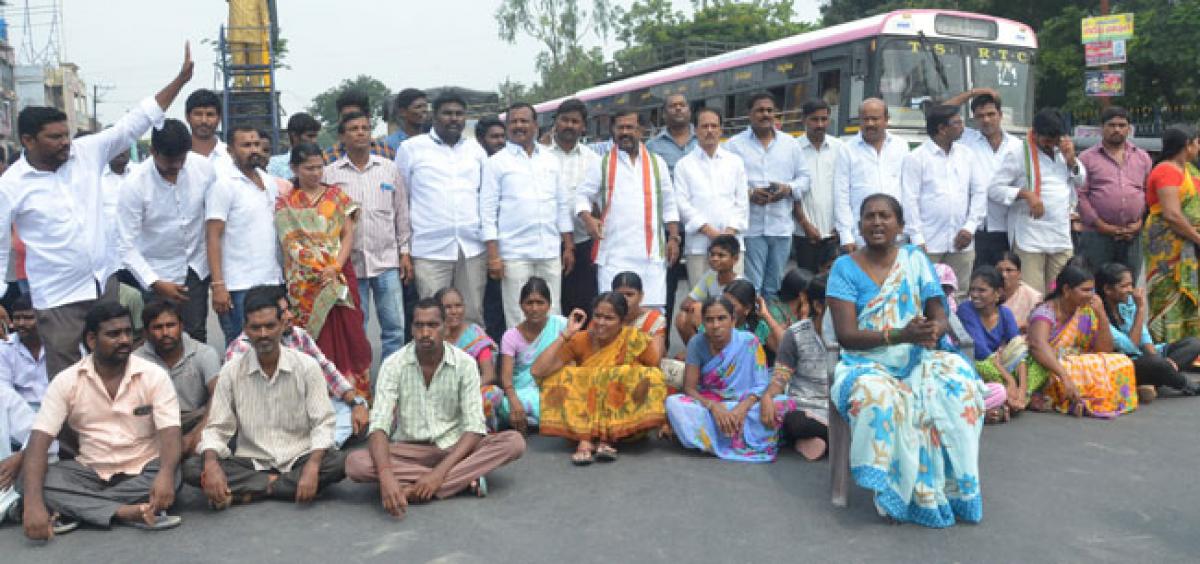 Highlights
The Congress workers staged a rasta roko and dharna at KU Cross Roads here on Friday, demanding stringent action against those who attacked the residents of Sundarayya NagarII Colony four days ago The protest was led by Greater Warangal Congress vicepresident Kandikonda Chinna Raju
Warangal: The Congress workers staged a rasta roko and dharna at KU Cross Roads here on Friday, demanding stringent action against those who attacked the residents of Sundarayya Nagar-II Colony four days ago. The protest was led by Greater Warangal Congress vice-president Kandikonda Chinna Raju.
Chinna Raju alleged that Warangal West former MLA Vinay Bhaskar and his brother Vijay Bhaskar are frightening the residents of the colony and are trying to suppress the incident. Warangal District Congress Committee president Naini Rajender Reddy also participated in the dharna.
Speaking on the occasion, Rajender Reddy alleged that the Warangal West MLA Vinay Bhaskar and his brother Vijay Bhaskar were resorting to attacks against innocent people and even not sparing women.
The DCC chief condemned the attack and further alleged that the incident proves what kind of respect the TRS is giving to the women. When they insist action against the goons, the police are just giving verbal warnings but not filing any cases against them as per law.
He recalled that they filed a complaint against the goons but no action was taken against them so far. He warned that they are ready to retaliate if the attacks continue against the innocent people.
DCC president said: "Vinay Bhaskar, mend your ways or else face the wrath of people in the ensuing elections." Senior Congress leaders Namindla Srinivas, E V Srinivas Rao, B Srinivas Rao, P Vijay, Naini Laxma Reddy, E Mahender, Gunti Swapna, N Satyanarayana, G Sravanthi, B Kishan Naik, V Surender Reddy and P Rahul Reddy were present.