Inter-circle tennis & badminton tournament begins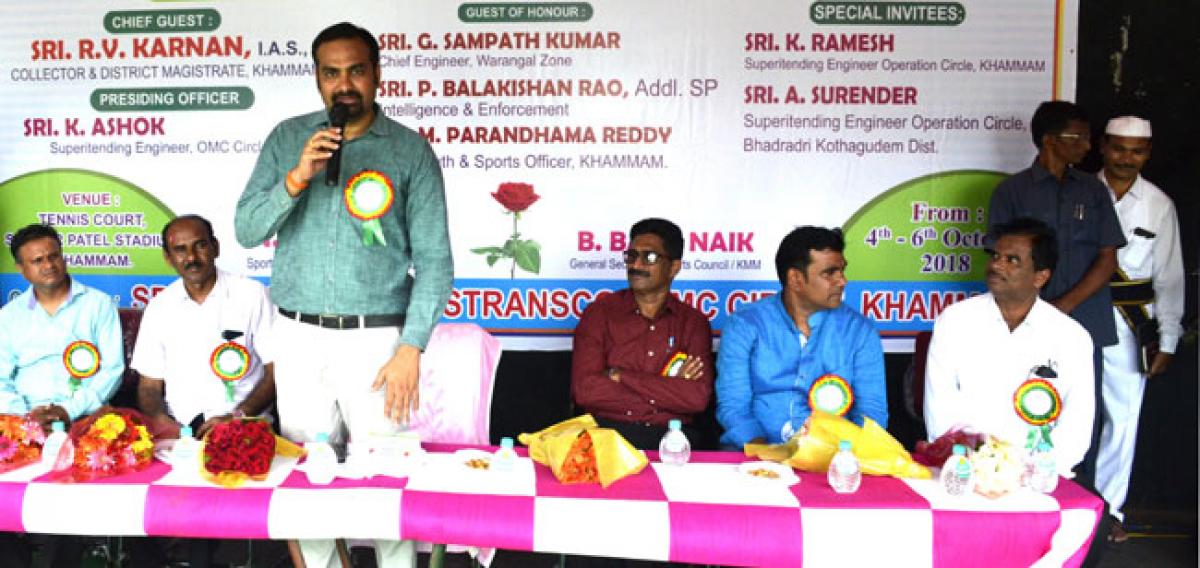 Highlights
District Collector RV Karnan on Thursday inaugurated a threeday State level InterCircle Tennis and Badminton Tournament organised by TRANSCO and DISCOMS here at Sardar Patel Stadium in Khammam
Khammam: District Collector RV Karnan on Thursday inaugurated a three-day State level Inter-Circle Tennis and Badminton Tournament organised by TRANSCO and DISCOMS here at Sardar Patel Stadium in Khammam.
The tournament will conclude on October 7 Speaking on the occasion, Karnan said the employees working in various departments are always under constant stress because of routine works.
Certainly, participating in sports competitions will give them immense pleasure mental peace to them, he added. The employees must participate in such competitions in a friendly atmosphere. Winning and losing is common in any sports and they must take it in sporting spirits, said the Collector.
He also advised them to practice Yoga and do exercises daily to keep themselves fit and healthy to get rid of stress and strain. He praised the officials of the electricity department for organising such events for the sake of their employees.
Superintending Engineer OMC Circle K Ashok, Additional ACP Balakishan Rao, District youth and sports officer M Parandama Reddy, General Secretary of the Electricity department B Babu Naik, Sports Officer Jagannath, Thirupathi, Ravi Kumar, P Rama Rao, P Appa Rao, and the employees of Electricity department Gouse, Akbar Ali, Suresh, Paripurna Chary, Madhav and Shiva were present along with others.