Maoist couple surrender to hit Leftist movement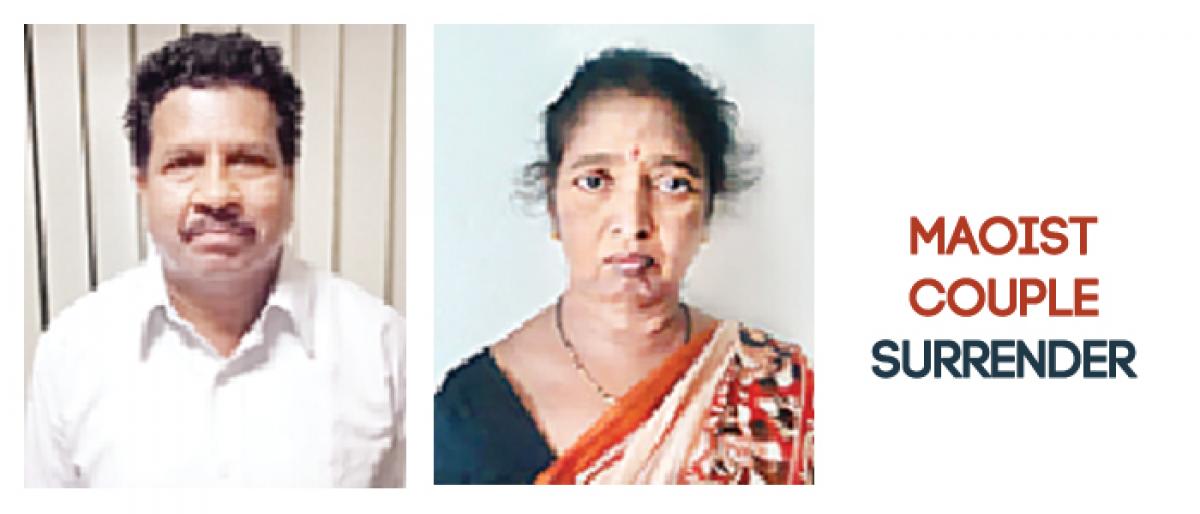 Highlights
In what is being seen as a major setback to the Maoists, a CPI Maoist couple surrendered before Hyderabad police commissioner on Tuesday
Hyderabad: In what is being seen as a major setback to the Maoists, a CPI Maoist couple surrendered before Hyderabad police commissioner on Tuesday.
The couple - Koti Purshotham(68) and his wife K Vinodhini (63) - said came out of Maoist fold being vexed with the Maoist ideology and internal politics.
They said that their deteriorating health was another reason why they have come out to join the mainstream of society.
Purushotham often was referred to as the Master Brain, who worked with top leaders like Ganapati, Akkiraju Rama Krishna (RK) and Kishanji for almost two-and-a- half decades.
Purushotham (@ Vijay @ Sharat Chandra @ Srikanth @ MK @ Ashok) worked as RCM / DCS status agitation propaganda committee (APC) printing, publishing unit, CPI (Maoist) party.
City Police Commissioner Anjani Kumar said that the couple surrender would be a major setback to Maoists. He said if the naxalites were surrendering, it was because Telangana had the best surrender policy.
The CP gave a call to the Underground Maoists to come out and join the mainstream and live their life peacefully.
Police will take care of them with a better rehabilitation policy.
The Police Commissioner said a cash reward of Rs 13 lakh was earlier announced for information leading to the arrest of the couple and the amount would now be given to the couple.
Purushotham studied Bachelor of Oriental Languages in Andhra Saraswatha Parishad, OU in 1974 and did his MA (History) in 1987.
He hails from middle-class Kurma family. Worked as a head master in Ambedkar Vidyaniketan Upper Primary School at Addagutta, Secunderabad, in 1981.
While working as head master, came in contact with the late Mallojula Koteshwar Rao (@ Kishanji) and K G Satyamurthy.
He Joined the party in 1981. In 1982, he married Vinodhini who was working as a teacher in Addagutta area.
He worked as city committee members of Hyderabad, later as city secretary from 1981 to 1986.
After marriage they went underground and stayed in Krishnanagar colony, during which time they recruited around 60 cadre into the party and sent them to forest for training.
Later they worked in Visakhapatnam in 1986 to 1996. They were arrested in March 1991 at Visakhapatnam along with the late Nimmaluri Bhaskar Rao, Sammi Reddy (surrendered).
Later they were released in May 1991 to fulfil the demand of Maoist party for setting free P Sudheer Kumar who they kidnapped.
Sudheer Kumar is son of former Union Minister P Shiva Shankar.
He rejoined the party in 1991 and up to 1996 worked as state committee member at Visakhapatnam.
Later worked in APC and SCOPE till 2005. From 2005 to 2014 he worked under the guidance of Akkiraju Hara Gopal(@RK).
He was in contact with only RK through correspondence for the last 13 years.
He shifted to Hyderabad and living underground with family from 2014 without exposing.
Interested in blogging for thehansindia.com? We will be happy to have you on board as a blogger.