MCRHRD goes solar, saves Rs 6 lakh a month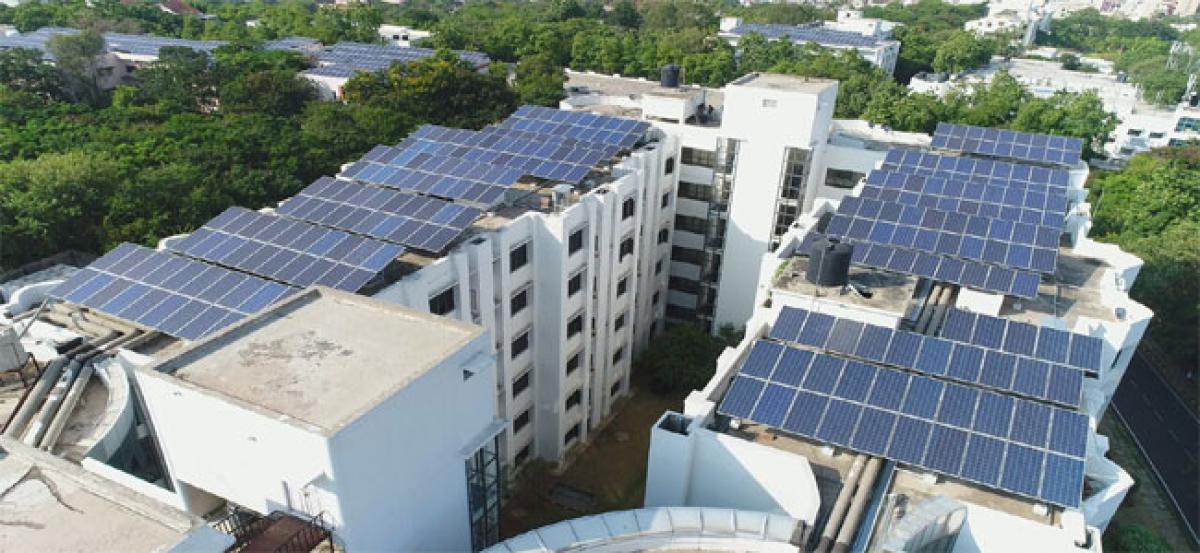 Highlights
Dr MCRHRD Institute has completed installation of PhaseI of solar power system of 500 Kwp on the rooftop of the buildings Administrative Block, Godavari Block, Muchukunda Block and Tungabhadra Block located on the campus
Hyderabad: Dr MCRHRD Institute has completed installation of Phase-I of solar power system of 500 Kwp on the roof-top of the buildings Administrative Block, Godavari Block, Muchukunda Block and Tungabhadra Block located on the campus. The cost of the Phase-I was Rs 219 lakh, out of which approximately Rs 50 lakh will be reimbursed as Central subsidy. The electricity generated from Phase-I will contribute to a saving of about Rs 6 lakh per month in the institute's electricity bill.
The Phase-II of roof-top solar power system of a capacity of 500 Kwp will cover Krishna Hostel, Arjuna Arcade and Centre for Good Governance. On the completion of the phase II, the total saving in the Institute's electricity bill would be a whopping over Rs 12 lakh per month. Unlike the conventional ways of generating electricity which pollute environment, the solar power is clean, non-polluting and sustainable. "The installation of the solar power system at the Institute is one of the largest initiatives on public buildings in the State, which will result not only in reducing the overall cost of energy but also in contributing to a greener environment", said B P Acharya, Special Chief Secretary to Government & DG of the Institute.
The Institute has completed Energy Audit basing on which reduction of air conditioning has been introduced. Similarly, low mast LED lights have been introduced in place of High Mast Halogen Lights. In order to optimize the usage of power and water, metering of water and energy has been introduced. Being an eco-responsible Institute, the model of reduce, reuse, and recycle water is implemented. Based on regular survey of buildings, extensive efforts are being made to reduce wastage of water by identifying the sources of its leakages and taking timely corrective actions. The efforts aimed at conserving water and reducing its consumption involved replacement of conventional taps with flush type taps, acquisition of ultra-modern flush taps and overhead tanks, usage of treated grey water for gardening and so on.
Other Measures
In order to address the root cause of pollution, use of plastic and paper cups and glasses has been dispensed with and reusable steel cups and glasses are being used in the dining halls. With a view to reducing paper usage, electronic data sharing has been introduced. Food waste generated from the dining halls and kitchen and waste generated from different wings of the institute is converted as compost on the site, which is used as manure for the gardens.
In order to address the problem of rocky terrain of the Institute and the resultant acute ground water shortage, measures such as diversion of rainwater for plantation, storage of excess rain water, and rain water harvesting for recharge of ground water have been introduced.