Last day of nominations witnesses huge crowds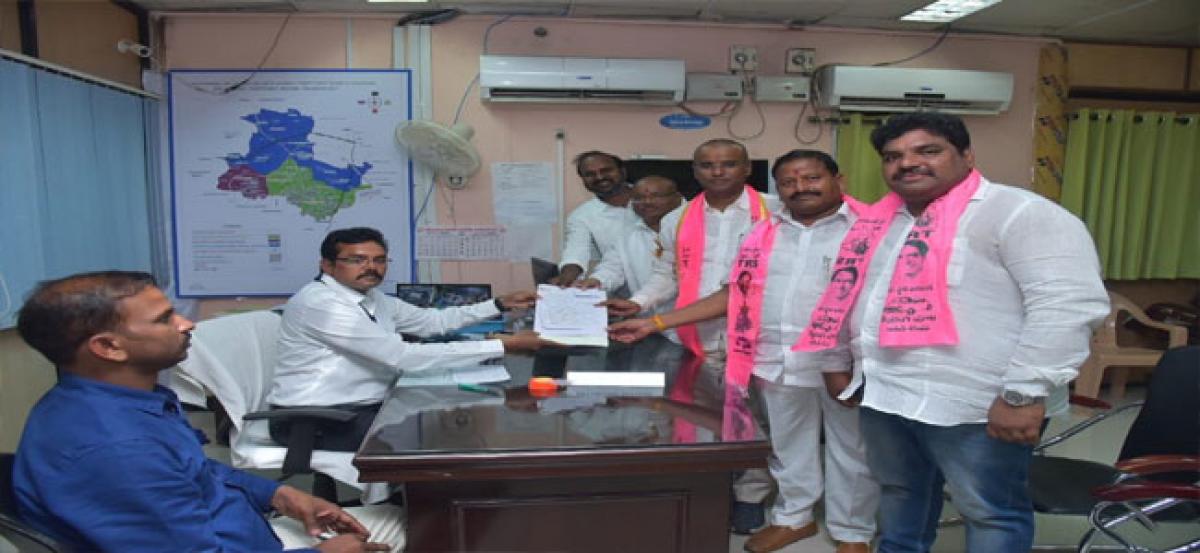 Highlights
The process of filing nomination papers in the Quthbullapur constituency concluded on Monday, the last day, with the main parties like the Congress and the TRS mobilising large gatherings as show of strength during the day
Quthbullapur: The process of filing nomination papers in the Quthbullapur constituency concluded on Monday, the last day, with the main parties like the Congress and the TRS mobilising large gatherings as show of strength during the day.
Supporters of Mahakutami (MK) candidate Kuna Srisailam Goud took out a massive rally before he filed the papers after he performed pooja in Chittaram temple, Gajularamaram. Many people, including women, besides leaders and activists of the MK constituents lined up in the 3-km rally. Addressing them, he stated that Mahakutami would defeat the TRS party to end KCR's 'dictatorial' rule in the State. Telangana Rashtra Samithi candidate K P Vivekanand submitted his nominations, accompanied by MLC Sambipur Raju and many local party leaders. Earlier, a large number of women from the division participated in rally from Ushodaya Towers, while playing 'Bathukamma', which stood out as the main attraction.
All-India Forward Bloc nominee Kolan Hanumanth Reddy too filed his nomination in GHMC office here, accompanied by a large number of supporters. Reddy had contested the 2014 Assembly election as TRS candidate. Although he had his declared intent to join the poll fray at a TRS rebel, he chose to join the AIFB three days back.
Kasani Veeresh (BJP), son of former MLC Kasani Jnaneshwar, got the ticket in the final list. He filed his papers in the GHMC office, after leading a huge rally of party leaders and activists. Addressing them, he claimed that people were fed up with the family rule of TRS during the last four-and-a-half years. "They are repenting for having voted the pink party to power in the last elections," Veeresh asserted, while predicting that in 15 days the ruling dispensation would be packed off.