Tandur Master Plan stresses on ORR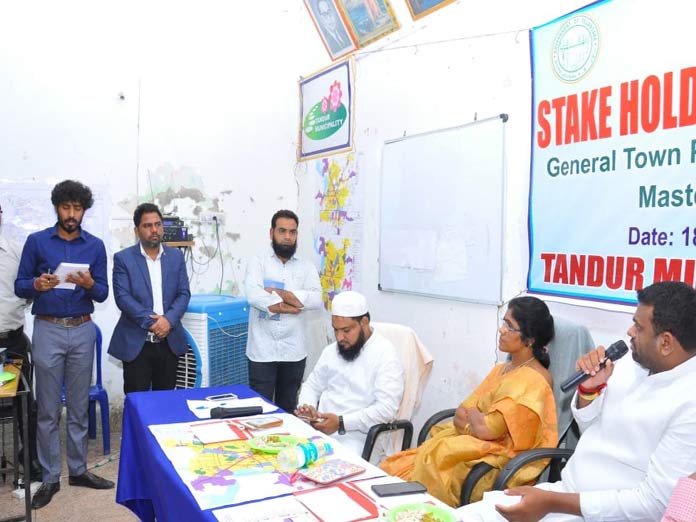 Highlights
A master plan for Tandur town to create all kinds of infrastructure has been prepared The representatives of Design and Development from New Delhi Kuldeep, Pradeep, Debabrat and Sakshi explained about the plan and details of the survey through power point presentation here at Municipal office on Monday
Tandur: A master plan for Tandur town to create all kinds of infrastructure has been prepared. The representatives of Design and Development from New Delhi Kuldeep, Pradeep, Debabrat and Sakshi explained about the plan and details of the survey through power point presentation here at Municipal office on Monday.
MLA Rohith Reddy, Municipal chairperson Sunitha, councillors, local businessmen, youth associations were present during the presentation. The representatives explained that the present population of the town was about 65,000 and it was expected to reach to 7 lakh by 2041.

Keeping in mind population growth, there is a need to provide amenities and facilities like pipelines for drinking water, electricity, underground drainage, flyovers, ORR, anganwadi buildings, burial grounds, community halls, and residential townships. Appropriate land has also been identified, they said.

The number of schools and hospitals and other infrastructure needs have been growing and would rise exponentially, and all details have been mentioned in the survey, they said. Stressing the need of ORR, they said Tandur is a hub for cement factories and marbles and the transportation should not cause pollution. They also said that the number of road accidents would come down due to ORR and the by-pass roads would reduce the distances. They appealed the stake holders to submit any changes in the master plan within a week. RD of Municipal administration Ramesh Babu, officials from electricity, R&B, Police, registration and revenue departments were present.