Enrol youth in voters list: Karimnagar Collector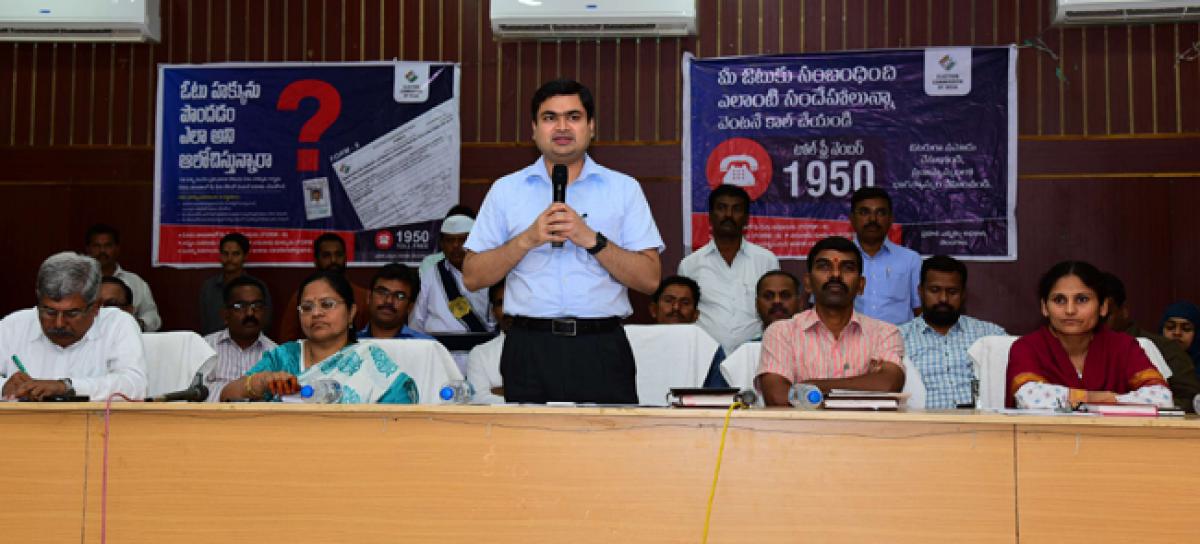 Highlights
Every person, who crossed 18 years, must enroll his name in the voters list, suggested District Collector Sarfaraz Ahmed at an awareness programme at the Collectorate here on Thursday
Karimnagar: Every person, who crossed 18 years, must enroll his name in the voter's list, suggested District Collector Sarfaraz Ahmed at an awareness programme at the Collectorate here on Thursday.
The awareness programme was held with NSS program officers and volunteers of different junior and degree colleges to discuss the enrollment in the voter's list.
Speaking on the occasion, the Collector said the percentage of young voters between the age group of 18 to 19 years in the district must be 3.4, but it is far less.
Voter enrollment drive is a continue process. A special drive will be organised for enrolling young voters in the district to increase the percentage to required level. All those, who complete 18 years by January 1, 2019 must enroll their names in the voters list, he said.
Training for voter enrolment will be given to NSS officers and tabs will be provided to them. He advised the NSS programme officers to make sure that all those, who couldn't enroll their names in the list, will do it now without fail and they should also attach SSC memo and a passport size photo.
For this special enrollment drive, booth-level officer will be deployed in every polling booth along with appointing a supervising officer to monitor the process. Vote is the fundamental right of every person and must utilise it, the Collector said.
District revenue officer Ayesha Masrath Qanam, Satavahana University Registrar Komal Reddy, Karimnagar RDO Raja Goud, national youth award winners Shekar, Vishnu, Ajay Kumar, Srinivas, Raju, NYK coordinator Ravinder, sports department supervisor Siddha Reddy, NSS Ramakanth Reddy and others were present.