Telangana Govt neglecting gram panchayat workers: CITU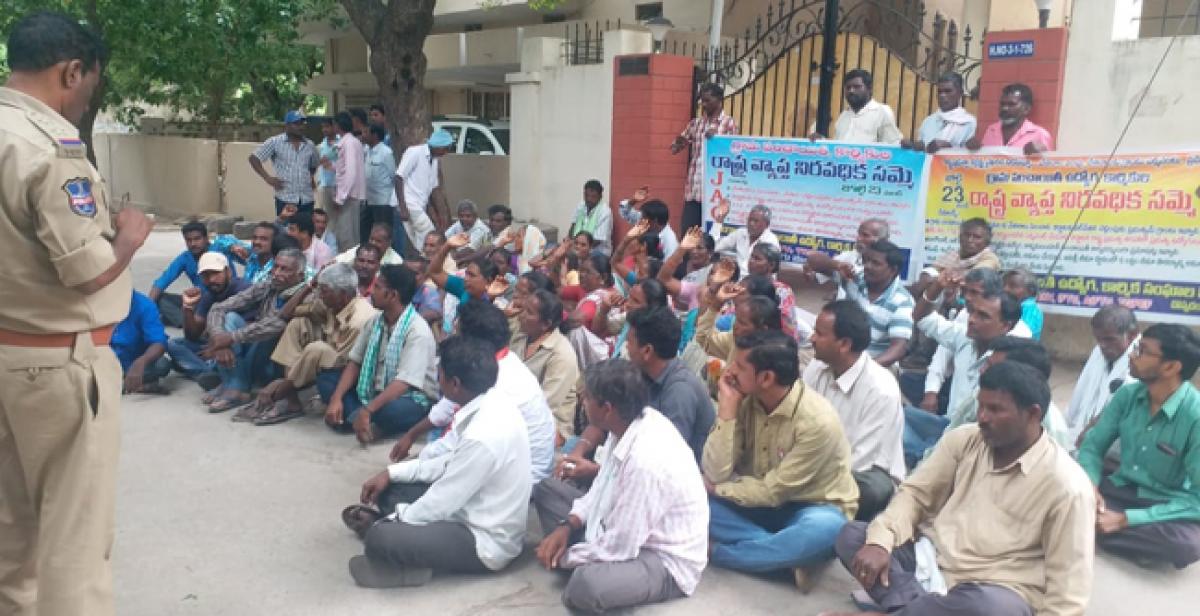 Highlights
The State government is negligent in solving the issues of Gram Panchayat workers, who have been on strike for the past 17 days, alleged Centre of Indian Trade Unions CITU district secretary Bandari Shekar
Karimnagar: The State government is negligent in solving the issues of Gram Panchayat workers, who have been on strike for the past 17 days, alleged Centre of Indian Trade Unions (CITU) district secretary Bandari Shekar.
He along with CITU activists and gram panchayat workers on Wednesday took out a rally from court chowrastha to Finance Minister E Rajender's residence in Karimnagar, where the protestors staged a dharna.
Shekar criticised that the government is not showing interest in solving the problems of panchayat workers. Minister, MLAs and other public representatives are deceiving the panchayat workers with fake assurances that they would take initiation for solving their issues.
It is the gram panchayat workers, who will make all necessary arrangements when a Minister visits a village and strives hard for perfect implementation of welfare schemes introduced by the State government. But the government is not at all considering their demands like enhancement of their wages along regularisation of their jobs, he pointed out.
The TRS leaders must make a resolution for enhancing the wages of panchayat workers along with regularising their jobs and must introduce it in the Assembly.
Shekar appealed the representatives of various peoples' organisations and panchayat workers to attend 'Atma Gourava Sabha', which will be held in Hyderabad on August 11 in large numbers to make it a grand success. If the government uses police force to suppress the movement, they would intensify the movement to teach the government a fitting lesson, he warned.
Telangana Gram Panchayat Association district vice-president Raju, Gangadhara mandal president Ramanujam, Omkar, Kamalakar, Ramadugu mandal president Kumar, Choppadandi mandal president Rajanarsu, Srinu Reddy, Pochalu and about 100 panchayat workers participated in the rally and dharna.