Is the accused mentally trained? Y.S.Jagan murder attempt updates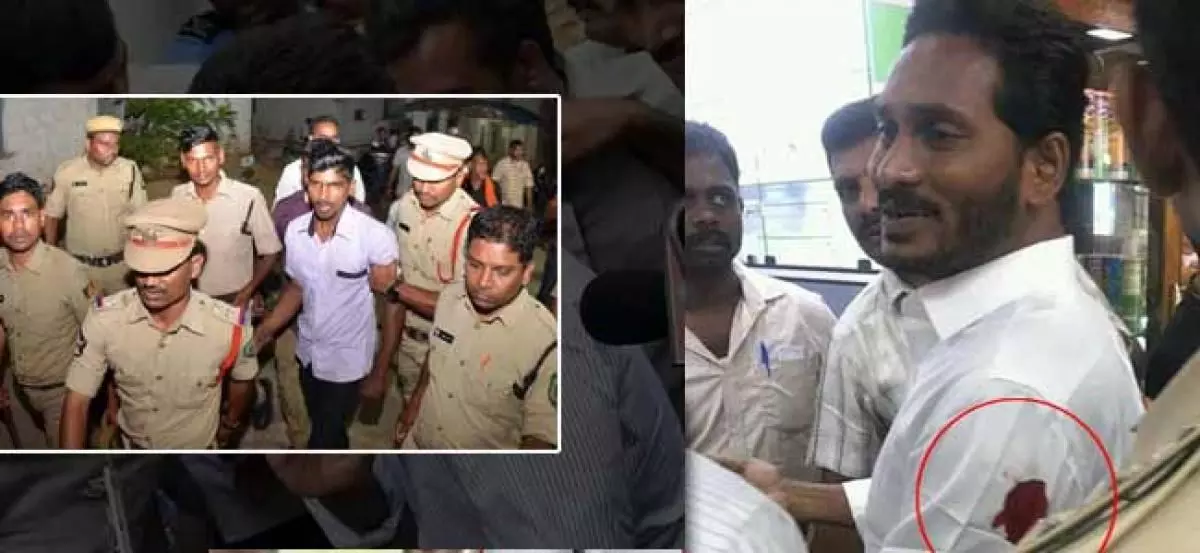 Highlights
The AP Police are strongly believing that the accused JSrinivas in YSJagan murder attempt case was mentally welltrained to face any further consequences after the attack The AP police strongly suspecting some masterminds behinds the sensational attack, it is impossible a single common youth to handle on a VVIP
The AP Police are strongly believing that the accused J.Srinivas in Y.S.Jagan murder attempt case was mentally well-trained to face any further consequences after the attack. The AP police strongly suspecting some masterminds behinds the sensational attack, it is impossible a single common youth to handle on a VVIP.
As nothing new information found in Opposition Leader Y.S.Jagan murder attempt case, the AP Police intensified their probe to dwelt more facts in the incident. As many as Eight special teams led by one inspector each team deployed and probing into the incident. While two teams led by Commissioner of Police Visakhapatnam and one ACP inquiring J.Srinivas directly at Airport police station, the other teams at accused native place Mummidivaram in East Godavari District, one team is investigating to break the call data of the accused, one team is searching accused financial transactions of the past one year.
Meanwhile, the police officials are expressing their surprise that the accused, except revealing the information written in his 11 pages letter, not revealing a single sentence further. Even the incident spreads at a large scale on the media and at the National level, the accused is very stubborn on his stand, senior police officers are suspecting that Srinivas might have to be trained mentally to face any consequences after the attack.
Even the accused is saying that no one behind him and took the extreme step to see Y.S.Jagan as a chief minister, the entire episode is mismatching with his argument. I don't think so such a common young man, without having a big sketch scaling by masterminds, will execute a murder attempt on a VVIP. The place what they selected, inside the airport is a very strategic attempt. This is not a one day or a month-long exercise. I am sure that after a close eying of Jagan padayatra schedule, the location was selected. If the accused attempts Jagan in the much-crowded padayatra programmes, the public surely will assassinate him. However, we have to found more strings to strengthen the police argument in the court, a senior police officer told The Hans India.