Experts moot measures to avert road accidents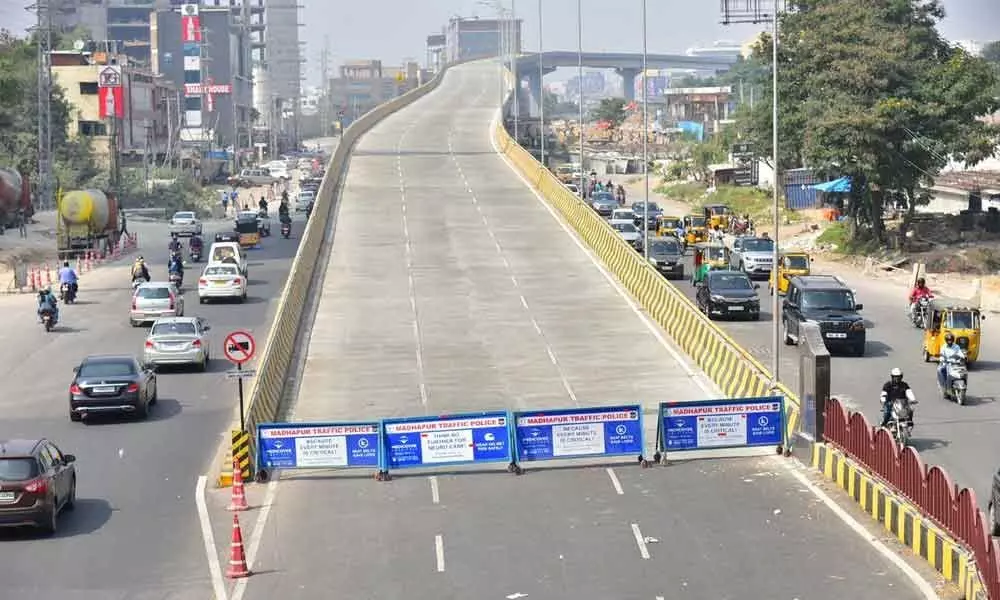 Highlights
Rumble strips, steel barriers suggested on the flyover to avert accidents
Hyderabad: Super elevation and two curves on a single point are said to be one of the causes for the car accident on the Biodiversity flyover near Gachibowli, according to experts.
The experts said that government should take up precautionary measures before opening the flyover again for the commuters.
According to Road Safety Trainer A Dheerender, apart from the human error, there were other factors that contributed for the accident.
"The flyover has super elevation (ascending) and two curves at one point. When the driver saw the free road, he increased the speed.
Unable to control the speed, he rammed the vehicle into the railing. The low railing helped as bearing and the vehicle fell on to the ground," opined Dheerender.
Meanwhile, citizens have expressed concerns over two accidents taking place on the flyover within a short period since its inauguration.
The government has also stopped the traffic on the flyover and asked the authorities to take up corrective measures so that there would be no accidents in future.
The District Transport Office, P Srinivas, said that the major reason for the accident was the high speed. If the driver is unable to turn the steering at a speed of 105 km, the vehicle is bound to get out of control.
In this case, there was under-steering, hence, the vehicle fell on the left side of the road. If it was over-steering, the vehicle would have fallen on the right side.
Srinivas said that there should be rumble strips at the beginning of the flyover, which would make the speed below 40 kmph.
The steel barriers would also help as they would absorb the energy and decrease the intensity of the accident.
At roads near the rivers, the authorities erect steel barriers so that the vehicle does not fall into the water body in case of an accident.
Interested in blogging for thehansindia.com? We will be happy to have you on board as a blogger.