Hyderabad: Build model markets in every municipality, says Sabita Indra Reddy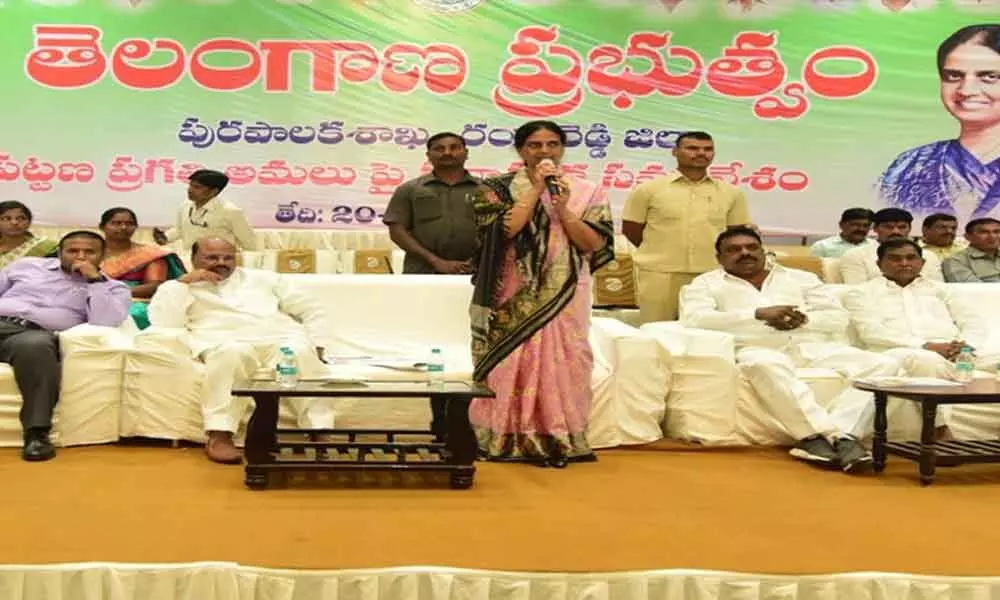 Highlights
Education Minister Sabita Indra Reddy addresses a preparatory meeting on implementation of 'Pattana Pragathi' programme from Feb 24 to March 4
Shamsabad: Education Minister Sabita Indra Reddy on Thursday directed the officials to construct model integrated markets in every municipality across the State.

Addressing a preparatory meeting on implementation of the 'Pattana Pragathi' programme from February 24 to March 4, she stated that officials have been instructed to make available one acre sites in every municipal centre on a war-footing for the proposed markets, where quality and fresh vegetables, fruits and non-vegetarian items would be sold.
The minister pointed out that already Chief Minister K Chandrashekar Rao had announced release of Rs 148 crore to all municipalities and corporations for setting up integrated markets. 'This should ensure that there is no shortage of funds to the civic bodies.'
Reddy mooted constitution of ward-wise 60-member committees comprising youth, women, educationists, senior citizens for ensuring active participation of people in 'Pattana Pragathi' programme.
She said the government would sanction Rs 800 crore every year to civic bodies in the State and that Ranga Reddy district would receive Rs 130 crore. She said in the department budget, ten percent should set apart for the 'Haritha Haram' scheme.
The minister disclosed that in the next two months public toilets would be constructed in every municipality. She recalled there was a provision in the new Municipal Act empowering the district collectors to sack negligent chairmen and councilors in the implementation of 'Pattana Pragathi' and other development programmes.
Legislators Prakash Goud, Manchireddy Kishan Reddy, Anjaiah Yadav, Kale Anjaiah, Collector Amoy Kumar, Additional Collector Prateek Jain, Mayors of corporations in the district, chairmen, vice-chairmen, corporators, councilors attended the meeting.