Lockdown goes for a toss: All of Hyderabad traffic on roads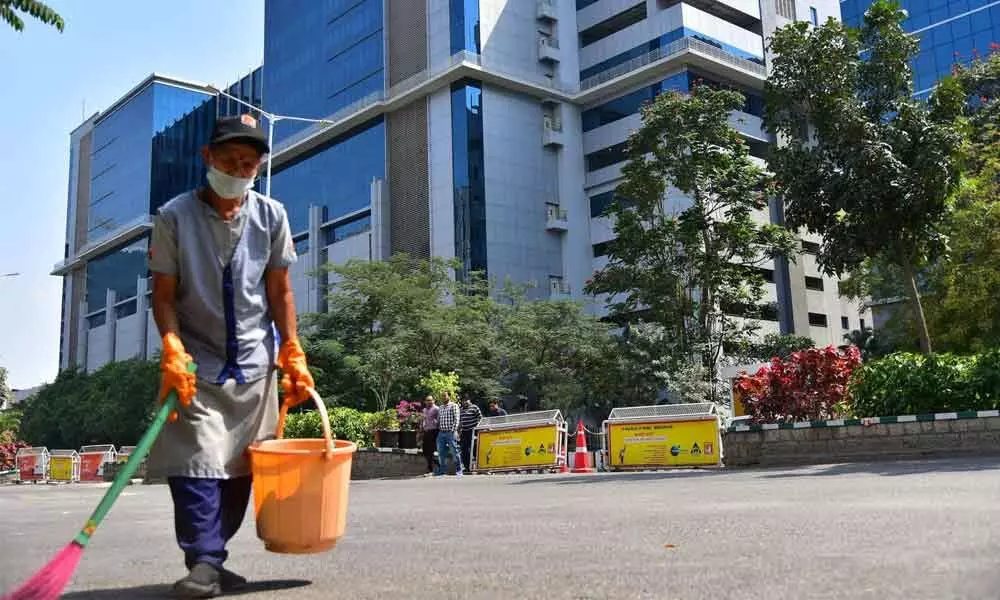 Highlights
IT and ITeS cos start functioning
Hyderabad: Lockdown in Hyderabad seems to have gone for a toss soon after the government permitted the sale of liquor and relaxed lockdown conditions by opening certain shops and factories after a gap of 40 days.
The roads are once again witnessing heavy traffic. Almost 75 percent of the traffic excluding auto rickshaws and RTC buses, all other vehicles are back on roads.
No one is following the guidelines that only one person should travel on two-wheeler and two in a car and police which had so far enforced the lockdown conditions strictly and earned accolades are now turning a blind eye to it. Even crime incidents are back in the news.
In addition to this, IT and ITeS companies have started operations from Monday. While major companies are still allowing work from home, smaller companies have opened doors for 33 percent employees.
All roads leading to the Hitec City were seen bustling with activity and police had to switch on signalling system to streamline the traffic.
At some points, the police had set up check-posts where police checked identity cards of the techies.
C Karthik, a techie from Tech Mahindra in Hitec City, told the Hans India that very little staff had attended the duties on Monday. The people who do manual work like the hardware, HR and others attended the office.
"We have not received any communication to come to the office as our job is online. Almost 99 per cent are working from home," said Karthik.
Ajay Kumar, working as senior accounts executive in Promantra Synergy Limited, said most of their staff was working from home and it was only the manager level personnel were coming to the office and the same is likely to be continued.
Society for Cyberabad Security Council general secretary Krishna Yedula said that as per the information they have only five to 10 per cent of the workforce had attended the offices on Monday.
He said the companies were asked to operate with limited staff, not to allow the staff to gather at one place, not to open up the cafeteria and strictly adhere to the guidelines issued by the government.