Nagarkurnool: Bahujana Bathukamma poster released opposing Uranium mining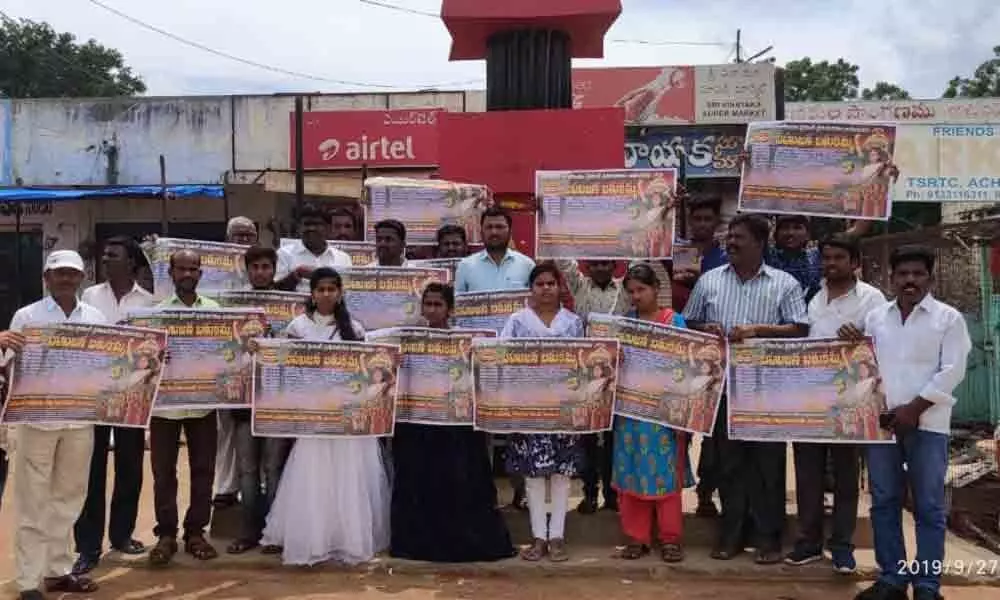 Highlights
Intensifying their protest against Uranium mining in Nallamala forest region of Ambrabad mandal in the district, the members of various students associations, literary experts, poets and artistes have all come together in Ambrabad on Friday
Nagarkurnool: Intensifying their protest against Uranium mining in Nallamala forest region of Ambrabad mandal in the district, the members of various students associations, literary experts, poets and artistes have all come together in Ambrabad on Friday and released a Bahujana Bathukamma wall poster to exhort their efforts to push publicity campaign among the locals and tribals of the region against the Uranium mining in the region.

Speaking on the occasion, the members who took part in the launch of the wall poster said that Bathukamma festival is celebrated for a healthy, prosperous and happy livelihood of the people. However, with the State and Central governments proposing to carry out the Uranium mining, the move will ruin the livelihood of the poor in this region. "We want to create a unity among the people of the region to revolt against the Uranium mining," said the members of various associations.
The members also felt that recently the resolution in the State Assembly against Uranium mining was a first step towards the efforts to stop it. However, this itself may not be enough as already the State government had given permission for conducting survey in the region. They said that they will continue to carry out the awareness campaigns through various mediums and try to spread the knowledge about the bad effects of Uranium mining and its adverse impact on the livelihood of locals and the flora and fauna of the region.