Patancheru: New mobile app launched for enrolling new voters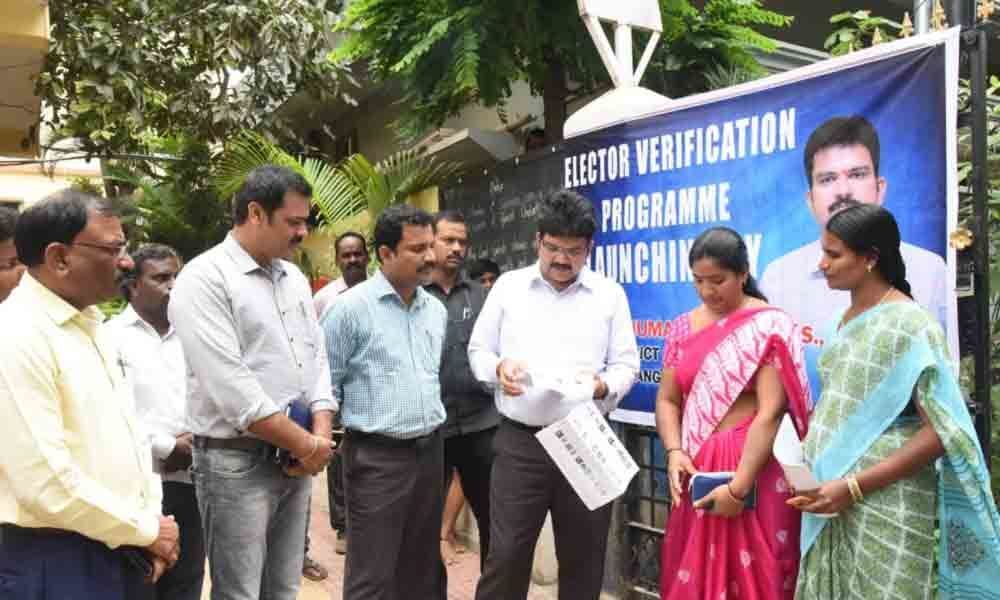 Highlights
1. New voter enrolments, corrections to be taken up from Sept 1 to Oct 12.
2. As many as 11,000 common service centers set up for the special revision.
3. The final list is due to be published in January 2020.
Patancheru: Sangareddy District Collector Hanmanth Rao on Sunday launched a mobile application to pave way to the inclusion of new names in the voter lists and to correct mistakes.

Speaking on the occasion, he said the new enrolment of voters and corrections in the list would be taken up from September 1 to October 12. The collector called upon people to take advantage of the provisions. The people must cooperate with the Booth Level Officers (BLOs) who move house-to-house in the revision of the voter list, he said. The final list sans mistakes would be published in January 2020.
Rao said that the Election Commission was holding a special summary revision from September 1 to October 15 to enable revision of the voter list, with corrections and additions. As many as 11,000 common services (assistance) centers would be working during the special revision in order to issue voter ID cards to those who have already enrolled and effect corrections in the list, including names, relationships and address. This is a good opportunity being provided to voters, he said.
The collector said that passport, driving license, Aadhaar/ration card/I-D card issued by the government, bank passbook, farmer ID card and documents issued by the Election Commission could be used during consultation with the poll staff/official at the centres. He said a special set-up would be made available in the offices of the district collector, tahsildar and at the division level.
Rao said that there is a chance to effect changes in the voter list from houses itself through the National Voters' Service Portal (NVSP) and Voters Help and 1950 Call Centre. The EC staff would conduct an inquiry at the ground level before effecting changes in the voter list. He said that for effecting corrections, Form 7 would be made available for the benefit of voter's relatives and family members. The BLOs would make the necessary changes only after ascertaining the facts.
The collector said that those who complete 18 years by January 2020 and who have not registered so far as voters could enroll their names through Form 6. If voters give details through 1950 Helpline, steps would be taken for their enrolment.