Tandav: Amazon Prime Unveils Character Posters Of This Web Series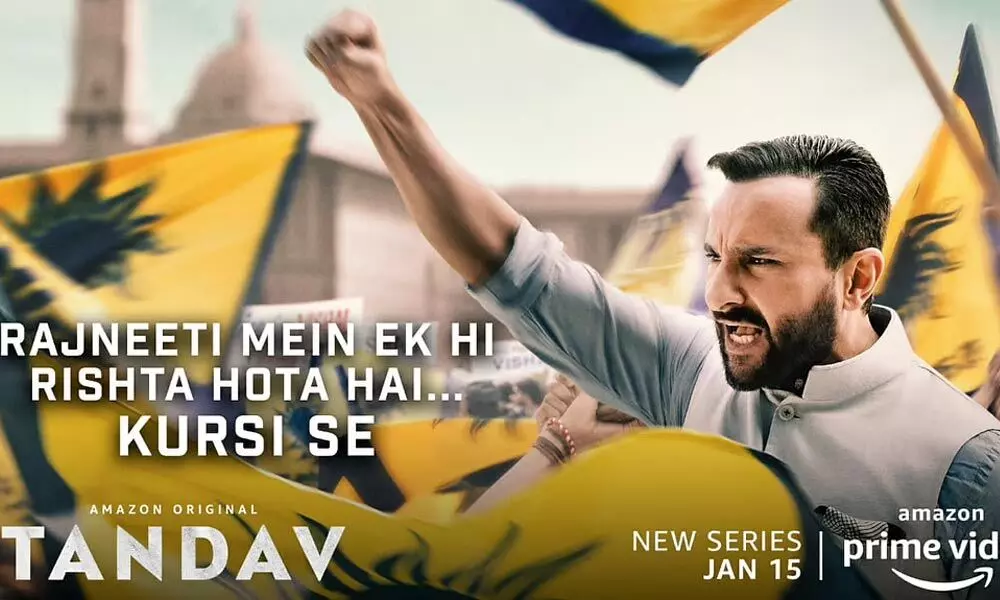 Highlights
Bollywood ace actor Saif Ali Khan's political drama 'Tandav' is going to hit the small screens soon
Bollywood ace actor Saif Ali Khan's political drama 'Tandav' is going to hit the small screens soon. Being the Amazon Prime original web series, our dear 'Pataudi' Khaandaan's finest actor will essay the role of a political leader in this show. As the makers are aiming to release this web series on the occasion of Pongal, they have dropped the character posters on Instagram and made us witness Saif in a complete new and sophisticated look as a political leader.
The first poster unveils the political attire of Saif Ali Khan… He is seen sporting in a blue kurta with a grey jacket and raising his voice along with the people in some political party show… The poster also has the statement "Rajneeti Mein Ek Hi

Rishta Hota Hai,
Kursi Se…".
The second character poster showcases Dimple Kapadia in a sari along with a 'Rudraksh' mala in her neck. Along with Dimple's intriguing look, the poster reads, "Rajneeti Mein Khiladi Ko Sirf Ek Chal Milti Hai…".

The third poster has Mohd. Zeeshan Ayyub and Kritika Kamra where these two are seen as the activists of the party… "Hamare Yahan Ideology TV Debates Se Bahar Bhi Zinda Rehti Hain…".

While the final and fourth poster showcases Sunil Grover in an intriguing look having Saif Ali Khan at his back… This poster reads, "Sahi Aur Galat Ke Beech Hai… Rajneeti…".

This Amazon Prime special web series will be released on 15th January, 2020.

Earlier there was also a controversy with the title of this web series. Initially, it was titled as 'Dilli' but now makers changed it to 'Tandav'. Saif spoke to media about this issue and doled out, "I hope it's not eventually called Dilli. Tandav was the working title which captured more the essence of what the show was about. Dilli is a little thanda (cold) really. I don't think we have either titles, Dilli or Tandav. We have to work hard to come up with something a little sexier like House of Cards. Something with a little more poetry to the title than just a geographical location".

Even Ali Abbas Zafar also spoke to media and said, "We are struggling with the name. That's why Amazon has not been able to make an official announcement".

This web series is directed by Ali Abbas Zafar and will be aired on Amazon Prime on 15th January, 2020. This small screen show will also have Dimple Kapadia, Sarah Jane Dias and Sunil Grover in other prominent roles.