TDP decries DGP's remarks on party chief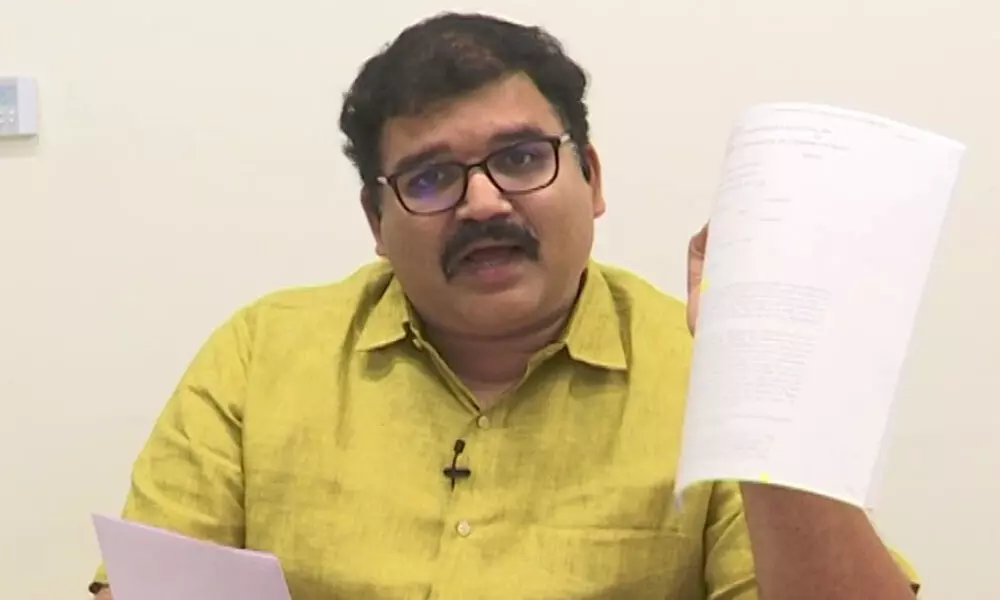 Highlights
Not a single case was cracked till now, even though 140 temples have been vandalised, says TDP spokesperson Kommareddy Pattabhi
Amaravati: TDP national spokesperson Kommareddy Pattabhi on Thursday strongly objected to DGP's statement that the expert lawyer's opinion was being taken to file a case against former Chief Minister N Chandrababu Naidu for allegedly inflaming religious tensions.
Pattabhi asked why the DGP had failed to take any strong action though over 140 incidents of vandalism took place at temples in the last one-and-a-half years. Not a single case was cracked till now. The DGP assured to prevent further attacks after the Antarvedi chariot burning but had failed to do so.
Addressing a press conference here, the TDP leader recalled how the police tried to blame an insane person for the Antarvedi incident till a CBI probe was ordered following the TDP agitation. To cover up all these failures, the police boss was trying to deflect attention by making baseless statements.
Even after the Ramatheertham idol desecration, lots of incidents were taking place. The DGP was not explaining reasons for this but simply listing out how many thousands CCTV cameras were installed at temples.
Pattabhi deplored that three days had passed since Sitamma idol was desecrated at Ramulavari temple near the Vijayawada bus complex. There was CCTV surveillance in its vicinity but no arrest has been made till now.
DCP Vikrant Patil promised to take action against the CI and the ACP concerned for their remarks that hurt the sentiments of the Hindus. But till now, no action was taken against the police officials, he added.
Pattabhi advised the AP Police Officers Association to mind their tongue before making statements against Chandrababu Naidu who had served for 14 years as the Chief Minister. The association leaders crossed their limits by making needless comments on the experience and service of Naidu.
Instead of coming to the rescue of their members, the association was speaking as if it had surrendered to the Tadepalli 'palace'.
Pattabhi asked what the police association did to protect the officers when YSRCP MLAs Kasu Mahesh Reddy and Vundavalli Sridevi intimidated and passed defamatory remarks against the department.