YS Jagan Mohan Reddy Birthday: Take a look at dynamic leader's journey to garner Chief Minister chair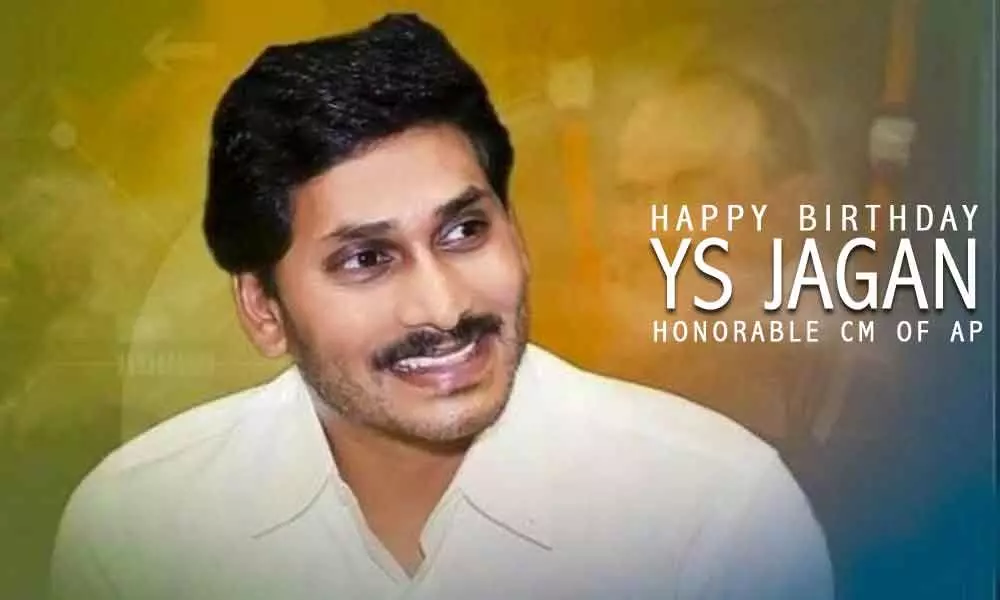 Highlights
YS Jagan Mohan Reddy Birthday: YSR Congress Party and the Chief Minister of Andhra Pradesh YS Jagan Mohan Reddy has turned 47 today
YS Jagan Mohan Reddy Birthday: YSR Congress Party and the Chief Minister of Andhra Pradesh YS Jagan Mohan Reddy has turned 48 today. On this occasion, we The Hans India are here to collate the highlights of this dynamic leader's journey. It is already knew that YS Jagan has revolutionised welfare by implementing his ambitious project 'Navaratnalu', which is an accumulation of various schemes after an unprecedented victory in 2019 elections. The young leader within a span of 19 months after becoming the chief minister has implemented almost all the promises made at the time of his Padayatra and at the time of general polls in Andhra Pradesh as well.
He is regarded as one among the best chief ministers in the country for his relentless efforts fulfilling electoral promises in due course of time. Let's have a look at YS Jagan's timeline and the way he excelled to the peaks in the political career.
December 21, 1972 - Birth
YS Jagan Mohan Reddy, the current chief minister has born on December 21 in the year 1972 to the late Chief Minister YS Rajasekhara Reddy and Vijayamma in Jammalamadugu of Kadapa district. He has a sister named Sharimala who is also part of YSRCP.
1978-1990 - Schooling
The flamboyant leader of Andhra Pradesh has started his schooling in The Hyderabad Public school in Hyderabad till 12th standard and later graduated in Bachelor of Commerce degree and went on to start business of his own
August 28, 1996 - Marriage
Soon after his studies, YS Jagan hitched to his soulmate Bharathi on August 28, 1996. The couple has two daughters who are pursuing their studies of which the elder one is studying in London.
1999 - 2000 - Foraying Into Business
It is learnt that YS Jagan Mohan Reddy has been a small-time businessman then in 1999 and 2000 where he started his career as a entrepreneur by establishing a power company Sandur and extended it to other locations.
2004 - First Step Into the Political Spectrum
It was at time when the late leader YS Rajasekhar Reddy who was striving hard to bring the Congress party into power in the state after nine long years, YS Jagan Mohan Reddy has made his first step into politics by campaigning for Congress party in 2004 elections.
2009 - Elected as Member of Parliament
Following the victory of Congress party in 2004 in the state and central, YS Jagan has tested his fate as contesting to member of parliament and won from Kadapa constituency.
2010 - Formation of New Party
After the death of YS Rajasekhara Reddy on September 2, 2009, there started hurdles for the political career of YS Jagan Mohan Reddy. However, the daring leader never showed his back and clashed with the Congress high command and went to start his own party in March 2011 and faced by election for Kadapa and won with huge majority. His party has opposed for the formation of Telangana state.
2012 - Facing the Corruption Allegations
It is the most forgettable and challenging phase in YS Jagan's political career where he was remanded on corruption charges and later served the imprisonment for upto 16 months.
2014 - Election Defeat
After the bifurcation of Andhra Pradesh in 2014, there has been general elections held in Andhra Pradesh in 2014 where the YSR Congress Party (YSRCP) lost the the elections, winning only 67 of 175 seats with 45% of vote share.
6 November 2017 to 9 January 2018 - Praja Sankalpa Yatra of 3,648 km
Being fed up with the ruling TDP party's treatment of opposition leaders in Assembly, YS Jagan had decided to meet the people and started his Padayatra and coined a slogan Raavali Jagan Kaavali Jagan. This has helped him a lot in becoming the chief minister of Andhra Pradesh.
2019 - Unprecedented Victory in Elections
In 2019, State election held in April–May 2019 wherein YSR Congress Party swept the polls and won 151 of the total 175 assembly seats and 22 of the 25 Lok Sabha seats in AP and took oath as Chief Minister on 30 May 2019. YS Jagan as chief minister is taking the state forward in development and welfare as well.
On this occasion, we wish the dynamic Chief Minister of Andhra Pradesh YS Jagan Mohan Reddy a very happy birthday.
Interested in blogging for thehansindia.com? We will be happy to have you on board as a blogger.