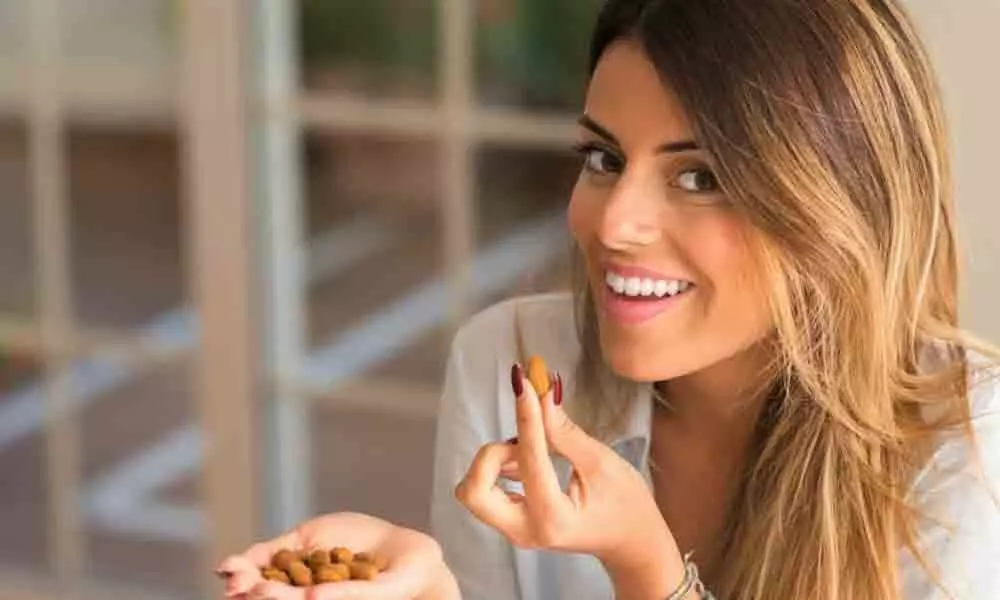 Highlights
As evening time rolls around, we begin to hear our stomachs rumble and grumble. I've often found that most of my clients struggle to control their...
As evening time rolls around, we begin to hear our stomachs rumble and grumble. I've often found that most of my clients struggle to control their temptations to reach out for sugary or fried snacks at this witching hour. I simply tell them to reach out for nuts instead! Snack on fats is the reaction that I get. You may think that that makes me nuts. Yes, I am complete 'nuts' for nuts!
Pistachios, walnuts, cashew, almonds, plain or salted, a handful is far lower in calories than any other snack, thus they make for a great snack between your major meals. The reason they satiate is that it is truly a portion of wholesome and well-rounded food. Good quality fat, a high source of protein, fibre and they are jammed with vitamins and minerals.
Whenever I have added nuts to my clients' diets it has effectively aided in boosting their overall health and weight parameters. Let me give you the total picture on what nuts can do for you.
The antioxidant content in each nut is truly your powerhouse to fight against free radical damage that clogs your arteries and multiply your cancer cells.
They have a truly amazing effect on lowering cholesterol and triglyceride levels and taking up the good cholesterol thus overall aiding in your heart health.
Nuts, due to their good quality fat content, will reduce inflammation in the body thus preventing joint and arthritis pains. I have seen a significant reduction in inflammatory markers which is your C reactive protein, in my clients after they have included a variety of nuts in their meals.
The omega 3 content of your nuts is food for your brain improving your memory and ability to recall. Bringing in nuts to your plate daily helps prevent degenerative mental diseases such as dementia and Alzheimer's.
Vitamin E content along with the antioxidant of nuts adds a desirable lustre to your skin, giving it a glow. You will see a vast improvement in the quality of your hair when you add these delicious creamy nutty nuts.
When I have replaced calorie-loaded, fried, sugar-filled, white flour- laden savoury snacks with a handful of nuts, my clients have dropped weight. Let me give you an insider's view on the nutritional benefits of nuts. For example, 50 pistachios which are approximately 30 grams are just 200 calories! Did you know that gram to gram it packs more protein to an egg or salmon!
Nuts are an ideal snack and if it is salted it will totally take care of your salt cravings that come mid evenings and see you through till dinner. The low glycaemic index and the good quality fat content will truly cut down hunger pangs. Plus, the fibre content in the nuts helps keep you full thus reducing your overall daily number of calories. Try it out and you will surely see the magic that nuts create in your body.
When I include nuts for people with elevated sugar, I see an instant drop in their sugar levels. This is because all nuts contain negligible amounts of sugar. The fat and fibre content of the nuts further lower the sugar levels. You can see a vast improvement in your daily blood sugars as well as your three months average.
So, embrace the nutty family that are delicious and are available throughout the year. Raw or roasted, plain or salted, a little bit of spice will just do the trick to keep you happy and healthy. Bottom line is nuts will improve your health in numerous ways despite being a fat!
Subscribed Failed...
Subscribed Successfully...