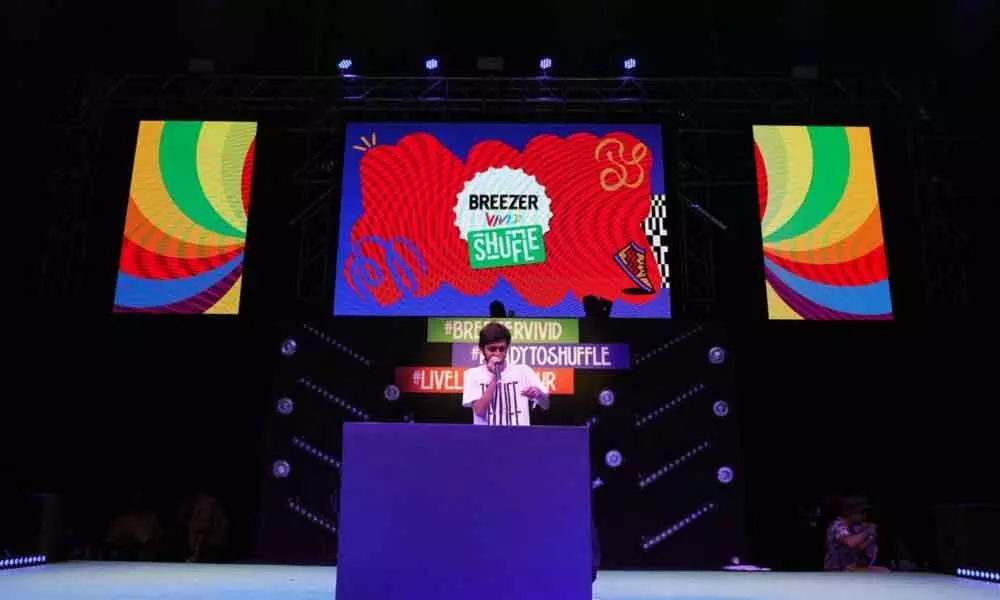 Highlights
Hyderabad-based beatboxer Raj Verma known by his stage name Yung.Raj burst onto the SoundCloud scene last year in 2018 with two short Eps 'Laced Loops' and 'October Heat'.
Hyderabad-based beatboxer Raj Verma known by his stage name Yung.Raj burst onto the SoundCloud scene last year in 2018 with two short Eps 'Laced Loops' and 'October Heat'. Also, a DJ he has internationally acclaimed acts like Foreign Beggars, Shri, Karsh Kale, Niladri Kumar, Shiva Sound System, Func, and was also an active member of popular acapella outfit – Voctronica till late 2017. Since his first two Eps, he has introduced several others like 'Steppin Stoned', 'Waterpipe Dreams' and 'Recovery Package' which have not only hit the club scene but got him spots at some of the country's biggest music festivals and platforms.

Excerpts from an interview
When did you start beatboxing?
I started beatboxing in 2009 at the age of thirteen when I happened to see a beatboxer on television and was intrigued by what he was doing. I first learned about it through YouTube and humanbeatbox.com, which got me going.
How has it been so far?
Since my first EP 'Laced Loops', which I put out in July 2018, I've released nearly 7 EPs like 'Steppin Stoned' and 'October Heat'. Some of my tracks are more on the chill, hip-hop side like my latest single 'Sloride' and some are more on the bass-heavy and fast-paced side like the 'Steppin Stoned' series. Prior to my production days, I used to join other artists and bands on their sets for keys and beatbox duties and while I love all that, my favourite place is my studio, where I can sit for hours to piece together something I can call my own. Without having spent any money on advertising, the organic reach of my music has been fairly good and I'm quite happy with all the support I've received over the past year and a half. I've been fortunate enough to have had the chance to perform with some local and international artists who I look up to and very recently, at the Breezer Vivid Shuffle Finale in Mumbai.
Besides beatboxing, I've also studied music theory and piano at Swarnabhoomi Academy of Music (SAM). Dabbling with software to create beats was always a favourite past time, but it was only in 2017 that I really got into the groove. There's still a long way to go for my music but I'm going to keep trying new stuff and I hope to keep the momentum up.
Who has inspired you for this musical journey?
To be honest, there are too many inspirations to include. There's been a vast amount of music out there that's kept me motivated and creative. Listening to other artists and their music helps me play around and create my own art.
What has been the most challenging part of your career?
I've been lucky to have extremely supportive parents and friends, who have always pushed me to grow and stay focused. Previously, I have struggled with anxiety and self-doubt and a lot of artists are battling the same problems. However, as time has passed, I find myself dealing with it in better ways.
What do you do when you're not making beats or DJing?
I'm usually gaming on my computer, watching movies or exploring Sound Cloud to find new music.
Where do you see beatboxing 10 years down the line?
Beatboxing has only been getting bigger and bigger, I can't really tell what it's going be like in a decade, but I know that it's going to be massive and audiences will definitely see several collaborations happening on a bigger scale than they are now. Beatboxers are going to get creative and more open to taking risks.
What has been your best performance?
My best performance was undoubtedly at NH7 Pune in 2014 when I got to join 'Foreign Beggars' on stage. It was the biggest crowd I ever played to and for a fanboy like me to get the opportunity to perform with them was something I'll never forget!
Tell us about your performance at Breezer Vivid Shuffle
It was my first time at such a massive hip hop platform, and it was crazy to be surrounded by all of these dancers who bring such a colourful vibe to the room! My set was essentially hip-hop oriented with a mix of beatbox and improv. I also reworked some of my previous songs with the looper. Being part of a line-up, which also featured acts like the Swadesi Movement and Kings United was incredible.
Subscribed Failed...
Subscribed Successfully...