MyVoice is to lift up the voices and experiences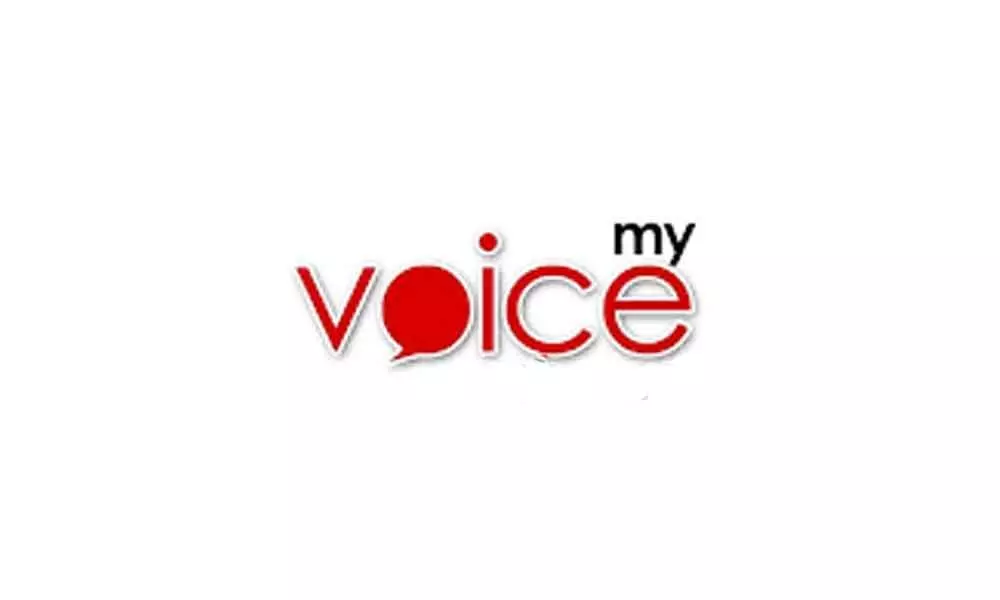 Highlights
MyVoice is to lift up the voices and experiences
GPs should be made waste management centres
Gram Panchayats should become plastic waste management centres in the country as well as in the State. The country generates 95 lakh tons of plastic waste per annum.
Nearly 38 lakh tons of single use plastic uncollected ends up in dumps. Plastic consumption is expected to double by 2022. Open burning of plastic waste causes respiratory ailments and other illness also.
So we need to collect and segregate plastic using safe methods without harming the society. Sanitation maintenance is controlled by urban and local bodies in the country. So we must focus on rural areas and teach them how to collect and segregate solid and liquid waste.
In the process of collecting solid and liquid waste, we should focus on creating wealth out of waste. Then only waste management can be implemented successfully in the country and we can reach our goal.
We should go for alternate ways and try to strictly implement ban on single use plastic in the country. The country is facing serious problems with plastic which causes serious ailments and health problems.
The Telangana State government has been focusing on construction of dumping yards with compost shed to create model villages as per Telangana Panchayat Raj Act.
Recently 30-day special action plan has been implemented with the aim of clean and green villages and successfully completed with public participation.
In this programme, most of the Gram Panchayats identified lands for construction of dump yards to maintain solid and liquid waste management in the State.
So we should promote safe and secure methods for collection of plastic and try to create wealth from waste. Then only we can control this type of problems and protect our people.
A Shyam Kumar, Hanamkonda
End RTC strike at the earliest
This is with reference to the report 'Cops play spoilsport to RTC JAC's protests' (THI, Nov 17). It is beyond common man's comprehension why Telangana Chief Minister K Chandrashekar Rao is showing so much of ruthlessness in the case of striking TSRTC employees.
Things seem to be going from bad to worse with TSRTC employees' Joint Action Committee (JAC) chairman Ashwathama Reddy sitting on an indefinite fast on Saturday, on the 43rd day of the strike by over 48,000 employees.
He sat on fast along with some supporters at his residence in Urmila Nagar on Hyderabad's outskirts after the police denied him permission to sit on fast at the Indira Park in the city centre.
It seems Ashwathama Reddy has decided to continue his fast till the State government calls the striking employees for talks on their demands. The government remained should stop being adamant and immediately find an amicable solution to the problem.
It should immediately hold talks with them on other demands as the striking union has agreed to forgo their main demand of merger of the corporation with the government.
Arun Ramesh, Hyderabad
A verdict full of paradoxes
The Supreme Court verdict on Babri Masjid-Ayodhya dispute case comes as a rude shock for god-fearing Muslims across the country.
The judgment that came wrapped in paradoxes illustrated peace, secular values and impartial objectivity, but subtly kept under wraps the violence behind the 'property dispute of title'.
It is ironical that the Hindu belief got manifestation, whereas the Muslim belief got compensation. This itself presents the undertones of dominance imposed by the judgment.
On another level, the judgement is celebrated or at least endorsed as one which has brought peace and harmony, a sense of relief and closure. The question of the differential ways in which the judgement affected different parties is made invisible in the ways the judgment is made sense.
The burden of peace and harmony in New India, a Hindu Rashtra, seems to have fallen now on Muslims. The burden of peace demands conformity of the Muslim community. If there is to be peace and harmony in India, then the Muslim community should be silent.
Peace, here, means not to speak, to be silent, since saying anything or raising a voice against atrocity is immediately construed as negative. If anything, the judgment further gives bones and flesh to the already existing state of alterity in India — the Muslim as the other.
The State which does not attend to the issue of lynching of minorities is praised as being based on "positive nationalism and humanism".
The colloquial use of the phrase "positive nationalism" is tainted with a certain sense of illiteracy as it focuses on a positive that is in opposition to negative.
There is no sense of xenophobia in understanding the positive nationalism of New India. So is the positive nationalism of New India evil?
Asfiya Sultana, Hyderabad