Know thyself, lead joyful life, say Brahmakumaris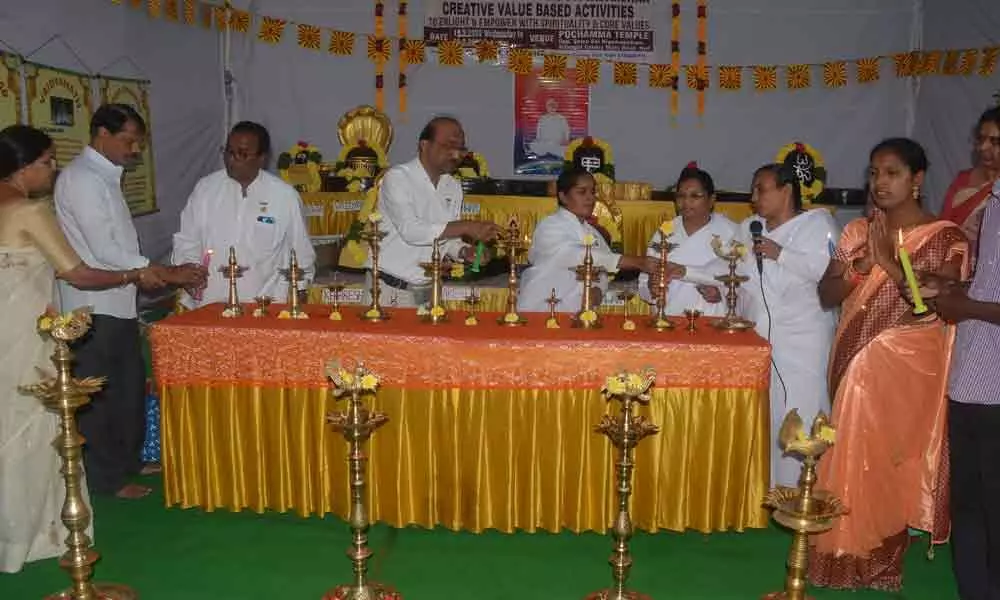 Highlights
Dwadasha Jyothirlinga Divyadarshan is available at Pochamma temple till Saturday from 6 am to 10 pm
Srinagar Colony: Prajapita Brahma Kumaris Ishwariya Vishwa Vidyalaya is organising Dwadasha Jyothirlinga Divyadarshan at Pochamma temple. The event was begun on Wednesday.

The Jyothirlinga Divyadarshan is available from Wednesday to Saturday from 6 am to 10 pm. Around 50-80 students from different school will participate in various activities.
"On account of Trimurti celebrations we have arranged Dwadasha Jyothirlinga Divyadarshan, and organising creative and value based activities at four different stalls. By attending all the stalls, we get to experience our true nature and know us completely 'what we are'. These little events and programmes will also provide us an opportunity to shape ourselves to be positive, kind and happy," says Radha Sister of the Brahma Kumaris organisation.
Curious Activities
Meet a Special Guest activity says that you are the only special guest for you and you always need to treat yourself special as a guest. Value Tree activity says that we could present enough shade (happiness) to people if we have enough leaves of positive thoughts.
Durgun Ahuthi activity says that Ahuthi (burn) of your devil or bad character before the supreme soul. Letter to God activity helps people to write a letter to the God to share inner feelings and make a good relation with devotion.
Brahma Kumaris is a worldwide spiritual movement dedicated to personal transformation and world renewal. Founded in India in 1937, Brahma Kumaris has spread over 180 countries on all continents and has had an extensive impact in many sectors as an international NGO. However, its real commitment is to help individuals transform their perspective from material to spiritual.
The objective of the initiative is to provide a platform to encourage the people to connect to God by sharing their gratitude inner hopes, dreams, concerns and wishes regardless of their age, gender, religion or race.