Police lathicharge protesting JNU students, again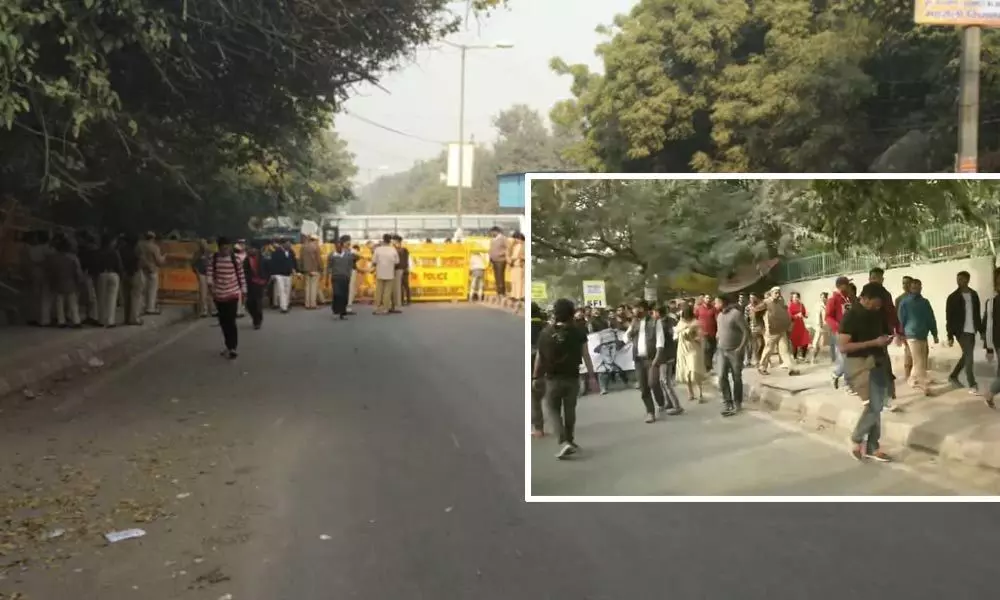 Highlights
The incident happened on Monday when the students marched to Rashtrapati Bhavan
New Delhi: Security outside Jawaharlal Nehru University (JNU) was tightened ahead of a planned students' march to Rashtrapati Bhavan to protest against the hostel fee hike on Monday. According to reports, students from the university circulated photos and claimed that police closed all the gates of JNU. The roads leading up to the university were closed for general traffic in lieu of the protests.
This morning, the JNU Students Union posted pictures on their Twitter handle about security being tightened by Delhi Police outside the university campus. The students were allowed to march till Sarojini Nagar bus depot and were not allowed beyond that point.
Around afternoon, the JNUSU said students have been waiting for the "VC-in exile" to participate in dialogue and added that they will not "wait forever". "We refuse to wait forever. The Visitor of JNU must intervene to restore normalcy. This administration has to go," JNUSU said. Continuing its attack on the administration and government, JNUSU sad the entire country is looking up to them and added that the fight will not stop.
"This is about saving the soul of JNU, and that of India. Unilateral decision making is illegal in a Constitutional Democracy. No decision without representation. We march on. Why is the Police so afraid of us? Why do those in power not want us to exercise our Constitution given right to protest peacefully? We will fight," JNUSU tweeted.
JNU students started to march towards Rashtrapati Bhavan despite police allowing the march only till Sarojini Nagar bus depot. The police then resorted to lathicharge after a clash with protesting Jawaharlal Nehru University (JNU) students, who were marching towards Rashtrapati Bhawan to meet President over fee hike issue.
#WATCH: Police resorted to lathicharge after a clash with protesting Jawaharlal Nehru University (JNU) students, who were marching towards Rashtrapati Bhawan to meet President over fee hike issue. pic.twitter.com/sAbuN05n2q

— ANI (@ANI) December 9, 2019
Delhi: Jawaharlal Nehru University (JNU) students march from JNU campus to Rashtrapati Bhawan seeking to meet President over fee hike issue. pic.twitter.com/BV98gWA8EL

— ANI (@ANI) December 9, 2019