SFI, AISF oppose Sunday, holiday classes in Vijayawada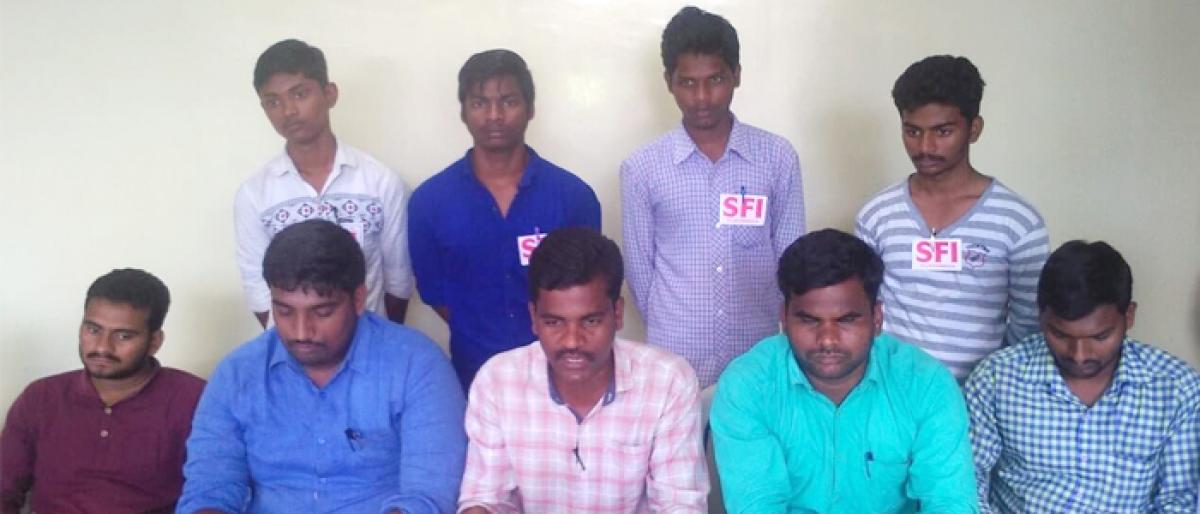 Highlights
The members of Students Federation of India SFI and All India Students Federation AISF demanded that the government take stern action against the institutions which conducted classes on holiday on account of Gandhi Jayanthi
Vijayawada: The members of Students Federation of India (SFI) and All India Students Federation (AISF) demanded that the government take stern action against the institutions which conducted classes on holiday on account of Gandhi Jayanthi.
Speaking to the media here on Tuesday, the SFI district secretary, M Someswara Rao and the AISF city secretary, P Charan said that a few institutions were reluctant to follow the guidelines of education department and were conducting classes on Sundays, second Saturdays and Gandhi Jayanthi.
They demanded that the education department officials take stern action on those institutions.
They urged the government to implement Right to Education Act and follow the recommendation made by M Neerada Reddy and Chakrapani Committee.
They also demanded that the education department officials stop sending the students to political meetings and Chief Minister's meeting.
They would stage a protest at the educational department office if students were used for political gains, they warned.
The SFI district president, N Kotababu, the AISF city leaders Eswar, Mallesh, SFI leaders Rakesh, D Gopi, Pavan, Rambabu and others were present.