Dwcra Bazaar sells handicrafts, artefacts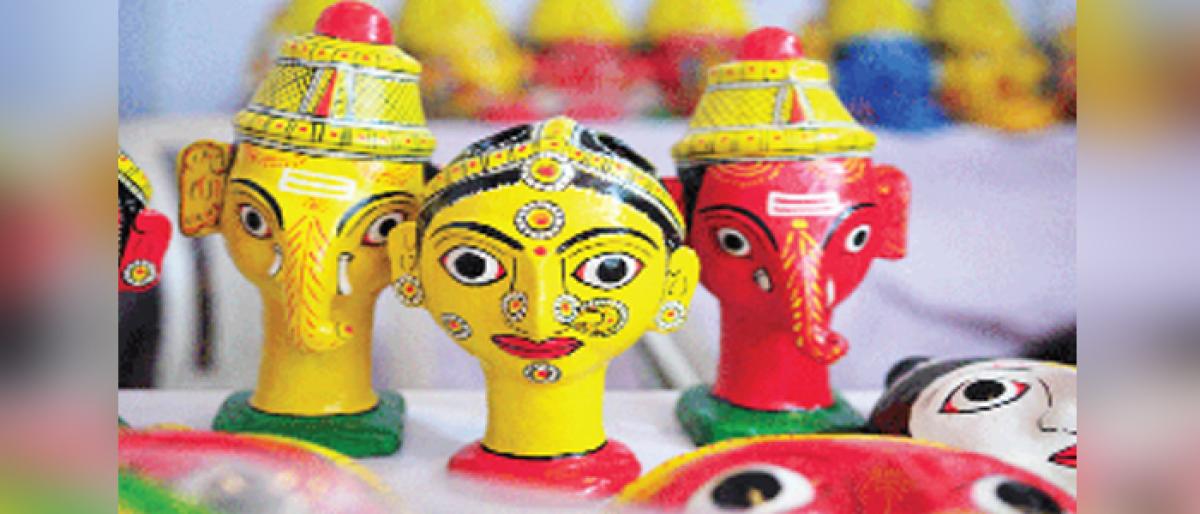 Highlights
The 12 day Akhila Bharatha Dwcra Bazaar ABDB is attracting denizens to visit the expo with stalls and exhibitors from across 20 States all over the country
Vijayawada: The 12-day Akhila Bharatha Dwcra Bazaar (ABDB) is attracting denizens to visit the expo with stalls and exhibitors from across 20 States all over the country.
The Society for Elimination of Rural Poverty (SERP) department has allotted about 320 stalls to 369 Self-Help Group (SHG) members in the ABDB -2018 exhibition to sell their products.
As many as 738 SHG members participated from across the country and the stalls will be open till October 22.
Members of SERP from about 20 States displayed products with quality and diversity like dry flowers from Arunachal Pradesh, bamboo and Kodapalli toys from AP, sarees from Bihar and Chhattisgarh, jewellery from Goa, interior decorations from Gujarat, Ayurvedic medicines from Visakhapatnam, attractive wood carvings from Chittoor and other famous products from different States to spread the culture and tradition through Akila Bharatha Dwcra Bazaar.
SERP Junior Project Executive NSR Murthy, speaking to 'The Hans India', said the ABDB was organised for more than a decade-and-a-half.
From the last year, it was being organised twice in a year. On the whole, about Rs 6 crore worth of products were sold at the exhibition by the SHG members.
He recalled that products worth about Rs 4 crore were sold during the previous year.
He said that ABDB was the right platform for the SHG members to sell their products.
Murthy informed that the State government was spending about Rs 1.35 crore for organising ABDB in the State for providing livelihood to SHG and bringing them under one roof with their culture and traditional products.
He said an NGO, Kalgudi was entrusted the work of selling these products online giving the product details and history.
A short film was underway to promote these products to create good market.
He said that NABARD, Mission for Elimination of Poverty in Municipal Areas (MEPMA), Andhra Bank, State Bank of India, LIC, United India Insurance and National Jute Board extended support to make grand success of ABDB-2018, he added.
Kondapalli village SHG member P Lalitha Kumari, Palakollu village of West Godavari district Cymon SHG member Ramanjaneyulu, native of Undavalli village of Guntur district Hemalatha, Ch Kondamma from Prakasham district, Somnatha Reddy from Chittoor district and Ramana of Vana Sanjeevini Herbal Pharmacy expressed their happiness over taking part in the ABDB.