Vice-Chancellor Prof V Durga Bhavani inaugurates Technology Business Incubator labs at SPMVV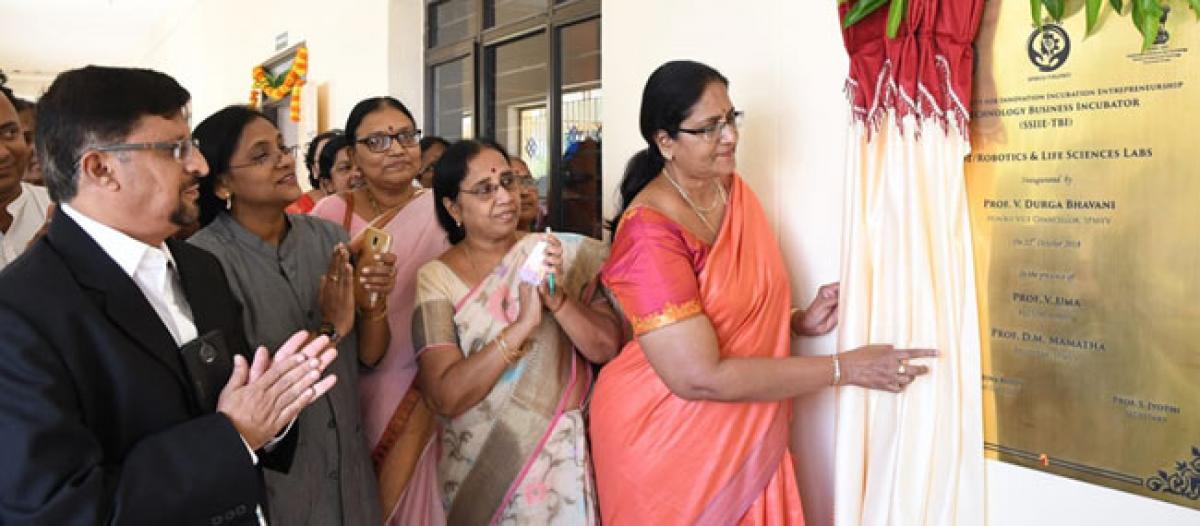 Highlights
The Technology Business Incubator TBI labs and its website were inaugurated by Sri Padmavathi Mahila Visvavidyalayam SPMVV ViceChancellor Prof V Durga Bhavani here on Monday
Tirupati: The Technology Business Incubator (TBI) labs and its website were inaugurated by Sri Padmavathi Mahila Visvavidyalayam (SPMVV) Vice-Chancellor Prof V Durga Bhavani here on Monday.
SSIIE-TBI (SPMVV Society for Innovation Incubation and Entrepreneurship – Technology Business Incubator) was an initiative of the University, National Science and Technology Entrepreneurship Development Board (NSTEDB), Department of Science and Technology (DST), Government of India. It offers budding entrepreneurs much needed infrastructure support to turn their innovations into reality.
Under the TBI initiative, two labs were established which were formally inaugurated by the V-C. The IoT/Robotics Lab has 3D printer, laser cutting and PCB etching machine, Drones, Digital Oscilloscope, Variable DC Supply, Metallurgical Mircorscope for usage by start-ups.
The Life Sciences lab has Class 10000 Clean Room, Nano spectro photometer, CO2 Incubator, BOD Incubator, Biosafety Cabinet and advanced microscope for use by start-ups.
Speaking on the occasion Prof Durga Bhavani shared the vision of TBI and said that it was intended to encourage entrepreneurship as a viable career option to the youth. The Rector Prof V Uma stated that through TBI the varsity has brought industry on campus and the students get opportunities to intern with the tech start-ups and apply their classroom learning to create business solutions.
The Registrar Prof DM Mamatha exhorted the students to make use of the TBIs facilities and spread start-up culture in the Tirupati ecosystem. The CEO of TBI Y Mallikarjuna Reddy has said that as of now it has 17 incubates and requested entrepreneurs to send their start-up ideas/prototypes to [email protected] or the newly launched website www.spmvv-tbi.com. The secretary Prof S Jyothi, Prof Katyayani, incubates and students attended the event.