'Telugu Alapana' concludes in Ongole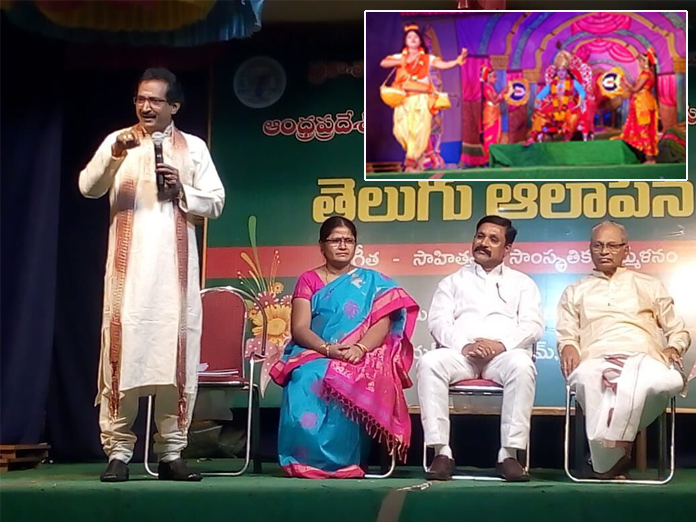 Highlights
The Telugu Alapana, a threeday programme organised by the Prakasam Districts Writers Organization and Andhra Pradesh Language and Cultural Department at CVN Reading Room in Ongole, concluded on Sunday night
Ongole: The Telugu Alapana, a three-day programme organised by the Prakasam Districts Writers Organization and Andhra Pradesh Language and Cultural Department at CVN Reading Room in Ongole, concluded on Sunday night.
The secretary of the writers' organisation, Ponnuru Srinivasulu mesmerized the audience with his timely anchoring for the three days and won accolades from the audience.
The Telugu Alapana, started on Friday with the preaching of Mahasahasravadhani Dr Garikapati Narasimha Rao.
He delivered an indepth talk on Telugulo Tatvam, and explained the meaning behind proverbs, idioms and phrases in Telugu language and how the common man learns a thing or two from them.
Narasimha Rao explained that when one deserts his greediness, he will automatically parts with the selfishness.
He advised the parents not to force the children to be part of the rank race, but try to help them get educated. He said that one should have cleansed his soul to know about the Hindutatva and advised all to understand that divinity is away from all physical relations.
On the second day, the Ghazal Sangeetha Vibhavari by Dr Swaroopa Reddy enthralled audience.
The voice of Swaroopa Reddy added glitters to the beauty and sweetness of the ghazals by Dr C Narayana Reddy, Dasaradhi, Rentala Srivenkateswara Rao, Rasaraju, MBT Syamala and others.
The MLC Magunta Srinivasulu Reddy awarded Swaroopa Reddy with the title Ghazal Koumudi.
On Sunday night, artistes from the Sri Nalinipriya Kuchipudi Nrityaniketan spell bound the audience.
The Rukmini Krishna ballet written by Sangeeta Nataka Academy awardee Vedantam Ramalingeswara Sastry, music composed by Dr Durga Bhavani while the dance choreographed by SV Sivakumari and performed by the children received great response from the public.
The writers' organization president B Hanumareddy, treasurer Yattapu Kondareddy, Parimala Foundation founder chairman Bijja Krishnareddy and other members of the organisation also present for the three days and received appreciation from a number of audience for the programme.