SRKR bags AAA rating in MOOCS courses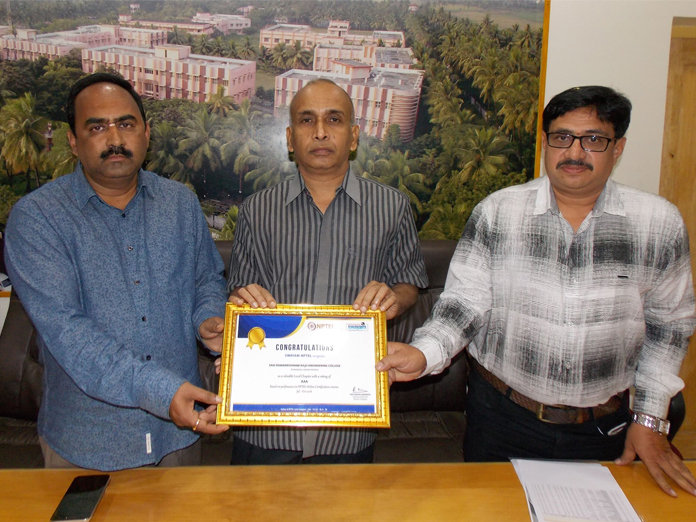 Highlights
SRKR Engineering College was awarded AAA rating at nationallevel and 2nd in Andhra Pradesh and Telangana states for attending Massive Open Online Courses MOOCS courses conducted by Chennai IIT under National Programme on Technology Enhanced Learning NPTL, said the college principal Dr G Pardhasaradhi Varma on Sunday
Bhimavaram: SRKR Engineering College was awarded AAA rating at national-level and 2nd in Andhra Pradesh and Telangana states for attending Massive Open Online Courses MOOCS courses conducted by Chennai IIT under National Programme on Technology Enhanced Learning (NPTL), said the college principal Dr G Pardhasaradhi Varma on Sunday.
He said that Indian IITs and IISc, Bangalore were conducting nearly 250 online courses, and about 2,000 students of SRKR Engineering College had attend through Chennai IIT, NPTL courses from July 2018 to October 2018 in various programmes which include one week, four weeks, eight weeks and 12 weeks programmes, and finally they attend online examinations.
In these courses, as many as 1,800 students of SRKR Engineering College were qualified and secured good positions.
Based on the performance, the Chennai IIT director Bhaskara Ramamurthy had given AAA rating certificate to the college and SRKR college was 6th among the top ten colleges.
Among the 1,800 students, 27 students secured top positions, 49 got gold certificates and 500 received elite certificates, said the principal.
The college technology centre head Dr N Gopalkrishna Murthy had personally received the rating certificate from Chennai IIT director.
On the occasion, SRKR Engineering College president Sagi Prasada Raju, secretary and correspondent Sagi Vithal Ranga Raju congratulated the students and principal Dr G Pardhasaradhi Varma and technology center head Dr N Gopala Krishna Murthy.