Amit Shah gets poor response in AP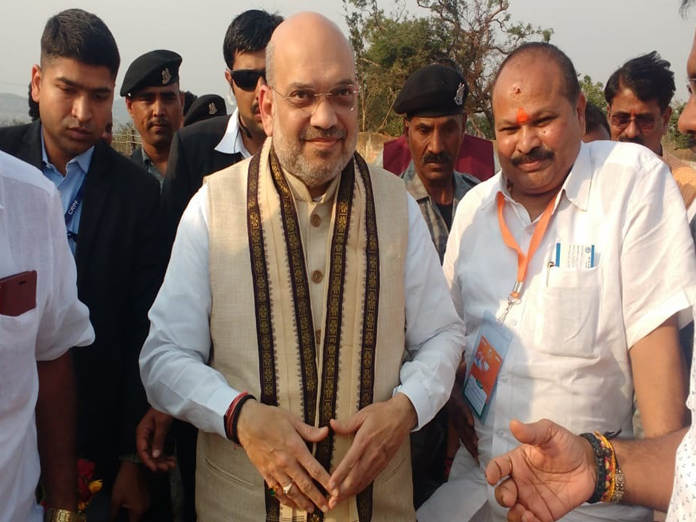 Highlights
The Bharatiya Janata Partys strategy to raise the political heat by lashing out at Telugu Desam Party and its chief N Chandrababu Naidu and try to project him as a person who always worked against the interest of people of Andhra Pradesh seems to have backfired
Srikakulam/ Vizianagaram: The Bharatiya Janata Party's strategy to raise the political heat by lashing out at Telugu Desam Party and its chief N Chandrababu Naidu and try to project him as a person who always worked against the interest of people of Andhra Pradesh seems to have backfired.
The state unit had selected Palasa in Srikakulam district to launch the bus yatra of BJP. But when BJP national president Amit Shah reached Palasa he had to face bitter experience as there were no people for his proposed public meeting. Secondly, he had to face protests from TDP activists who wanted to know with what moral authority had he come to the state when the saffron party failed to implement its promises.
At Kasibugga bus station where the impact of protests was maximum, tense moments prevailed for some time. A disappointed Amit Shah had to finally call off the public meeting and addressed a small crowd and mostly party activists. The situation in other parts where Shah toured was no different. The response has been almost nil. However, Shah in his own style went on reeling out figures saying that the BJP government had fulfilled 10 out of 14 promises.
He also said that Modi government had given much more to the state than what was mentioned in the special status. According to him Rs 5,56,985 crore was given to AP for development under various projects. "What has Chandrababu given apart from Nara Lokesh," he asked.
Chandrababu was lying when he said he quit NDA because of special status. Due to the intervention of Visakhapatnam MP Hari Babu and the then Union minister M Venkaiah Naidu, Modi government gave to AP much more than what was mentioned in special status and this includes a gift of 22 institutes.
On the contrary Naidu could not bring even one irrigation project in Rayalaseema, he said. "Chandrababu Naidu has always worked against the interests of Telugus for his political benefit. We will not take him back into NDA.
When he became unpopular due to corruption, he started levelling allegations against Modi that he did nothing for Andhra Pradesh," Shah said. Seeing Modiji's popularity, Chandrababu Naidu fell at his feet and returned to NDA. He has now returned to Congress, against whom NTR waged a battle to uphold Telugu pride. After the experiment in Telangana failed, he left Congress and returned to mahagathbandhan, the BJP president said.