Students stage protest, burn Modi effigy in Ongole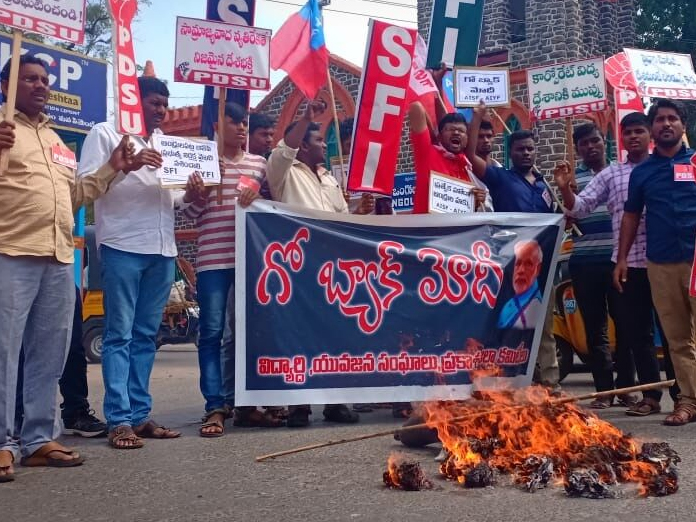 Highlights
The Students Joint Action Committee of various organisations including AISF, SFI, PDSU, AIYF, and DYFI organised a rally and staged a protest in front of the church center demanding that the Prime Minister Narendra Modi not to tour in the state and burnt an effigy of the latter on Friday
Ongole: The Students Joint Action Committee of various organisations including AISF, SFI, PDSU, AIYF, and DYFI organised a rally and staged a protest in front of the church center demanding that the Prime Minister Narendra Modi not to tour in the state and burnt an effigy of the latter on Friday.
The students' leaders P Prudhvi Kumar, Ch Vinod, Rajasekhar, Gulam Hussain, Sudhakar alleged that Narendra Modi has no moral right to tour the State as he cheated the people of Andhra Pradesh.
They said that the Prime Minister, who was boasting about ushering in Ache Din to the country has brought all bad days to the State by non-cooperation for the development.
They said that they raised the slogan, 'Modi Go Back, to counter him for not awarding the Special Category Status to the state and for not implementing the promises made in the Andhra Pradesh State Reorganization Act.
They demanded that the BJP leaders bring Modi to the State only after he announces SCS and kept his other promises to the state.
The student leaders G Eswar, Chinnapareddy, Dhanraj, P Ravi, Vikram, Sravan, Srikanth, Yohan, Manohar, Venkatesh, Pavan, and others also participated in the protest and burning of the effigy.