Hyderabad leads in new mall space addition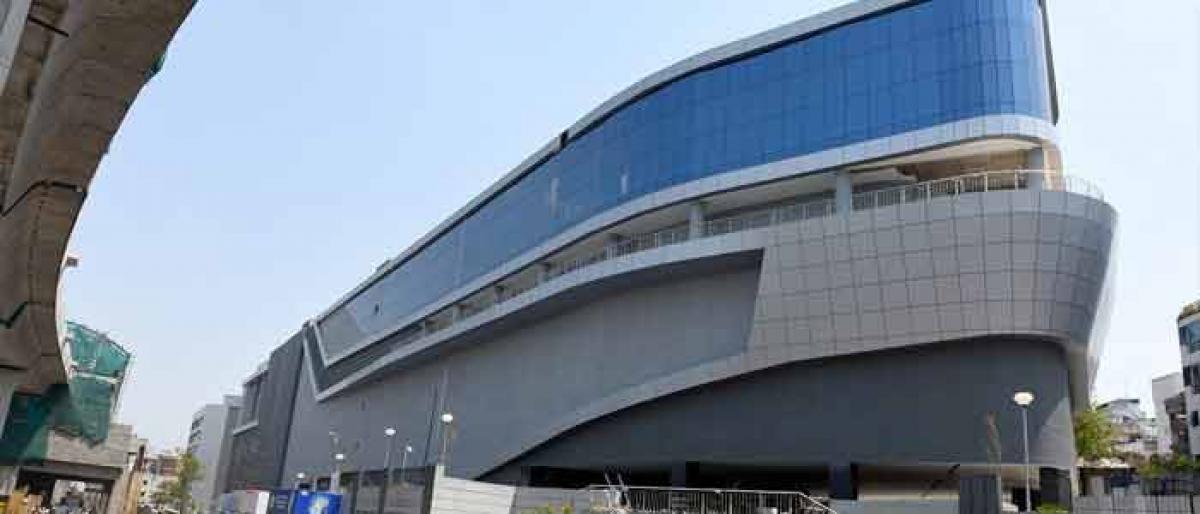 Highlights
Hyderabad, followed by Chennai, is leading the national real estate sector in mall space as the Pearl City accounted for 39 per cent of the total shopping mall space added in 2017. Generally, malls would come up where catchment potential is high, but shopping malls under Hyderabad
Hyderabad: Hyderabad, followed by Chennai, is leading the national real estate sector in mall space as the Pearl City accounted for 39 per cent of the total shopping mall space added in 2017. Generally, malls would come up where catchment potential is high, but shopping malls under Hyderabad metro project will attract huge footfalls, observes C Shekhar Reddy, former President Credai National.
"Four malls are ready in Hyderabad including two ready for open for consumers. No doubt that these malls will attract buyers in great numbers. Multiplex will be an added advantage to malls. Metro-based malls would also support other existing malls on the way. employees going home from offices can do shopping on the way.
Generally, consumers prefer to buy online as it gives chaotic experience in travelling within city for shopping purposes. Whereas, metro malls facilitate shopping on the way. Metro malls added most of the consumers from different locations brought to malls," Reddy told The Hans India.
According to a latest study by JLL India, retail supply in the next three years (2018 – 2020) is expected to be at 19.4 million square feet (msf). In the same period, demand will be approximately 15msf. The study revealed that 2018 will see the highest supply since 2011.
The total newly completed malls in 2017 was recorded at 5.6 msf, which is expected to see an increment of close to 40 per cent y-o-y and rise to 7.8 msf by the end of 2018. The largest contribution to this will be coming from the two southern cities of Hyderabad (2.2 msf) and Chennai (1.5 msf), which will see significant influx of mall supply. Delhi – NCR will be witnessing the highest supply of 2.3 msf of new mall space in 2018, albeit recording a decline of 28 per cent y-o-y since 2017.
"Setting up malls was conceived earlier also. Local major players such as IVRCL proposed, but not started. Because of recession, this proposal was slowed down. InOrbit Mall is doing good. Forum, GVK Malls are also ok. but metro malls attracting commuters to their place. huge foot falls. Density of apartments is increasing in western part of city and it needs more malls, which support e-commerce as well," said Reddy.
"In Delhi, NCR Region and Gurugram are overcrowded. Delhi reached excess mall space in almost seven years ago. On the other side, e-commerce and tele banking put pressure on mall space," opines Reddy. Ramesh Nair, CEO and Country Head, JLL India, said: "The retail sector of India is going through a fresh period of growth, which is backed by strong economic fundamentals.
As we have seen an increase in interest from investors which was seen with investments of over $750 mn in 2017. Encouraged by the urbanisation, young population and rising proportion of nuclear families in urban locations, over 70 per cent of consumption growth in the next 15 years is expected from population aged 15-59 years, with increased per capita consumption. This along with the opening up of the FDI route for retail brands entering into India, will further boost retail investments."
Entertainment segment will further boost demand for shopping malls. The largest Indian cinema-exhibition company PVR Ltd on Friday announced the simultaneous launch of its fifth and sixth PVR property with 13 screens in Next Galleria at Hitech-city Mall and Next Galleria Panjagutta Mall. Sanjeev Bijli, Joint Managing Director, PVR Ltd, said, "Our commitment towards the Hyderabad market can be seen through our constant endeavour to bring new and unique formats to the city.
Both the properties are strategically located and stand in absolute synergy with city's brand projection as the nation's technology center. With the increasing demand of premium cinema experience in South India, we are sincerely working towards expanding our foothold. On behalf of PVR cinemas, I would like to thank the mall management for providing such strategic locations for both the multiplexes to cater the city's audience. It indeed is an encouraging step towards strengthening our presence in the southern market."