Arun Jaitley was a dream boss: Arvind Subramanian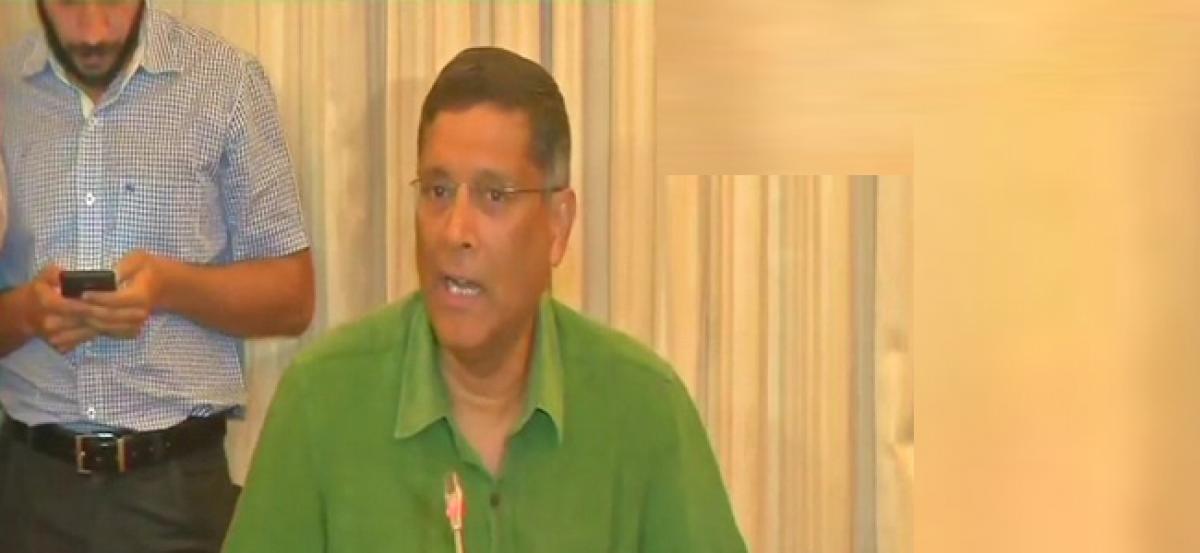 Highlights
Arvind Subramanian, who stepped down as Chief Economic Advisor (CEA) on Wednesday, hailed Union Minister Arun Jaitley as \"a dream boss.\"
New Delhi : Arvind Subramanian, who stepped down as Chief Economic Advisor (CEA) on Wednesday, hailed Union Minister Arun Jaitley as "a dream boss."
This came after Jaitley, in a Facebook post, heaped praises upon Arvind for his contribution to the economy.
"I am profoundly grateful by the generous words of Minister Arun Jaitley. I had a dream boss," Subramanian told media here.
Earlier in the day, Jaitley, in a Facebook post, wrote that Subramanian's decision to step down was due to "pressing family commitments".
In this regard, he said, "I am expecting a grandchild in September. That's a compelling reason to go back into the old life that I used to lead researching, writing, teaching and reflecting above all. It's been the best job that I have ever had and this will be the best one I will ever have. It's been fabulous three-and-a-half to four years for me. I will go back with the happiest memories of this tenure in terms of all that we were able to do. I will always be committed to serving the country at all times in the future. It's an emotional time for me."
On a question about former Finance Minister P. Chidambaram's negative views on the Goods and Services Tax (GST), Arvind said that anyone in a public office will have to gear up to face consequences on any decision taken.
"If you are in the public office, you have to be both prepared for forthright and be willing to take whatever the fallout or the consequences from that. Whether I have been validated or I have been successfully able to navigate this (GST), it's for all of you to judge. It's very encouraging what all is happening in the GST revenues not just for the Centre, but also for the states. GST was one of the things I had privilege getting closely associated with. It's wonderful to see this major policy reform hopefully turning out to be very positive going forward," he said.
Earlier in the day, Jaitley heaped praise on Subramanian over social media.
"Arvind's interaction with the Government in the Ministry of Finance, Prime Minister's Office and with other Departments was both formal and informal. His instantaneous communications with his interlocutors had increased his effectiveness. The Chief Economic Advisor's job had multi-facets to it. He is not a spokesman of the Government. He is an Advisor who has to analyse and thinks several steps ahead. It is a unique responsibility with the freedom to the work that he enjoys. Arvind functioned within these parameters and concentrated on the challenges to the economy."
Responding to the Facebook Post, Subramanian thanked Jaitley for the "extraordinarily generous words", while describing the post of the chief economic advisor as the "most rewarding, fulfilling and exciting."
"Profoundly grateful & humbled by these extraordinarily generous words by Minister @arunjaitley announcing my decision to return-for personal reasons-to researching & writing. CEA job most rewarding, fulfilling, exciting I have ever had," Subramanian wrote on Twitter.
Subramanian, whose term was to end on October 16 last year, was given a year's extension by the Centre.
The principal author of the annual Economic Survey, Subramanian took over as the CEA on October 16, 2014, owing to a vacancy post the appointment of Raghuram Rajan as the Reserve Bank of India (RBI) governor in September 2013.
On a related note, Subramanian said "no firm date has yet been fixed" regarding his last day in office.