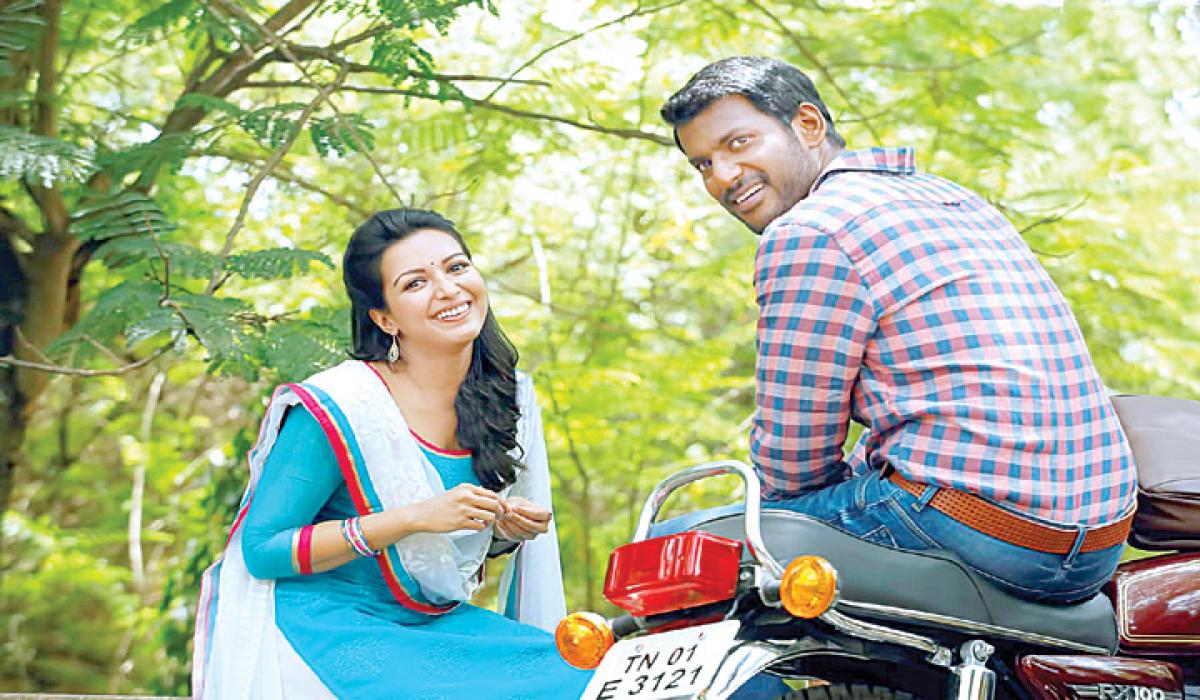 Highlights
In around a decade, Vishal has managed a niche presence in Tamil and Telugu film industries.
In around a decade, Vishal has managed a niche presence in Tamil and Telugu film industries. This 38-year-old has been freely experimenting with his roles on the one hand and at the same time also keeping himself firmly located in the mainstream, commercial format. In recent times, he has emerged as a producer too, his Friday release 'Kathakali', rolling out from the Vishal Film Factory.
Using the Keralite folk art form of Kathakali, as an allegory, the thriller with a murder mystery as its pivot travels at multiple layers. May be as one of his firsts, Vishal portrays the role of a NRI, complete with the hygiene-obsession, right at the beginning of the film before he gets his hands bloodied with the punches he exchanges with the bad guys, who are after him and his family for a murder he is supposed to have committed.
In a shorter running time of around two hours, the director Pandiraj breaks free from his child-friendly genre into one that focuses entirely on action and violence endeavours to build a narrative differently. Set among the vast expanse of the beach waters, the shady deals which happen on it and the power struggles between groups of evil elements, the film is a visual treat for the top angle shots of the sea and the allied scenes.
Catherine Tresa plays the love interest of Vishal and it is their marriage, the event for which the entire family is about to take off, before disaster strikes. How the daredevil hero, with a mix of native cunning and commonsense unravels the mystery and emerges unscathed is obviously what the film dishes out.
Attempting to play to the gallery, with a mix of romance, comedy and non-stop dishoom dishoom as the film moves towards the climax, Pandiraj lets the momentum slip in the first half, before the screenplay forces him to stay rooted in the second. This film, originally a Pongal release in Tamil Nadu, has had to wait some time before making its bow in Telugu cine industry, with Vishal being the biggest USP.
The next in the list is the villain, Madhusudhan Rao who does a tidy job, lacing his onscreen performance with the right amount of viciousness needed for the character. However, despite an earnestness shown by the team to present an offbeat thriller, the film bogs down at regular intervals and surrenders to predictability, which impedes its ability to look and sound different.
Film Name : Kathakali
Cast : Vishal, Catherine Tresa and Madhusudhan Rao
Direction : Pandiraj
Genre : Thriller
Likes : Vishal and the narration attempt
Dislikes : Missing sync between action and emotion tracks