When Janhvi Kapoor was Om Shanti Om's Deepika and Khushi stepped into SRK's shoes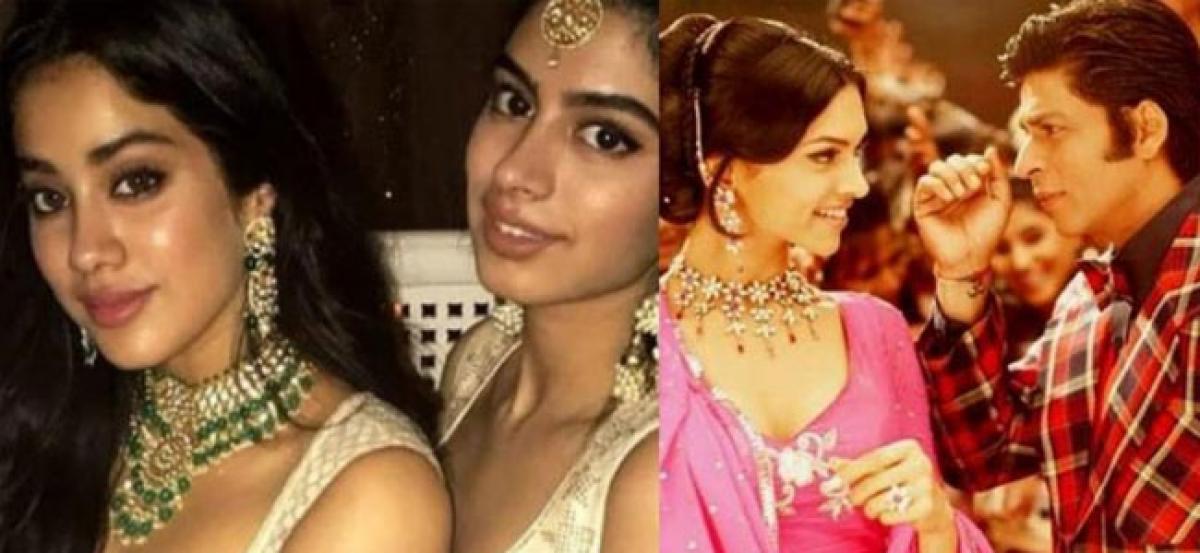 Highlights
Waving her hand like Deepika Padukone from Om Shanti Om and walking across her younger sister, who would pretend to be Shah Rukh Khan, Janhvi Kapoor harboured the dream to see herself on the big screen ever since she was a child
Janhvi grew up binge-watching movies, obsessed with the world of cinema and imagining herself in every other movie.
Mumbai: Waving her hand like Deepika Padukone from 'Om Shanti Om' and walking across her younger sister, who would pretend to be Shah Rukh Khan, Janhvi Kapoor harboured the dream to see herself on the big screen ever since she was a child.
The 21-year-old actor grew up binge-watching movie; obsessed with the world of cinema and imagining herself in every other movie.
"I always wanted to see myself on screen. I remember I would watch random movies and was obsessed with 'Om Shanti Om'. I would enact every scene from the film and force Khushi to be Shah Rukh Khan and I'd be Deepika, doing that typical hand wave," Janhvi told PTI.
"Even with the film 'Titanic', Khushi would be Jack and I'd be Rose, and we would say those lines to each other, 'I'd never let go!'" she adds.
As the daughter of late veteran actor Sridevi and producer Boney Kapoor, growing up in a film family — with uncle Anil Kapoor, half-brother Arjun Kapoor and cousin Sonam — Janhvi says movie magic was always in the air.
"Even in real life, we are dramatic and filmy. Everything is life and death, the stakes are always high. The most filmy person in our family is my father. He is the most dramatic, about anything and everything. Our lives revolve around cinema, it's all movies," she says.
Janhvi shares she caught the acting bug when she was a child, but she remained in denial for a while.
"I wanted to explore other avenues. I wanted to know if I'm inclined to this just because it's been in my house while growing up or is it really something I can dedicate myself to.
Also read: Watch: Janhvi and family seek blessings for Dhadak at Tirumala Tirupati temple in AP
"So, I decided to take up an acting course, an art history course and a fashion course. I started with the acting course and I remember, it's like, once you live an honest moment in front of an audience, it's euphoric. It's an irreplaceable feeling," she says.
With 'Dhadak' up for release this Friday, Janhvi has a chance to showcase her talent.
The film, in which she stars opposite Ishaan Khatter, is the Hindi adaptation of 2016's Marathi blockbuster 'Sairat.' The Shashank Khaitan-directed film has been produced by Karan Johar.
Janhvi plays Parthavi, a young girl in love, a role which was essayed by Rinku Rajguru in the original film, directed by Nagraj Manjule.
"What Rinku has done in 'Sairat', everyone said how honestly she played that character and lived every beat. She's an unbelievably talented girl. I don't think anyone else can repeat that performance ever," she says.
"Even if I tried, it would be a joke because no one can do what she's done. That would be an imitation. There's no fun in that. As an actor, I want to live, experience and not imitate," she adds.
Also read: Even before debut in Dhadak, Sridevi's daughter Janhvi Kapoor thinks she can be PM
The actor, however, hopes the audience connects with her character on screen.
"My character, Parthavi means a lot to me. I learnt from her journey, her experience. I approached the role with a lot of responsibility and sincerity. I hope that'll show on the screen," she says.