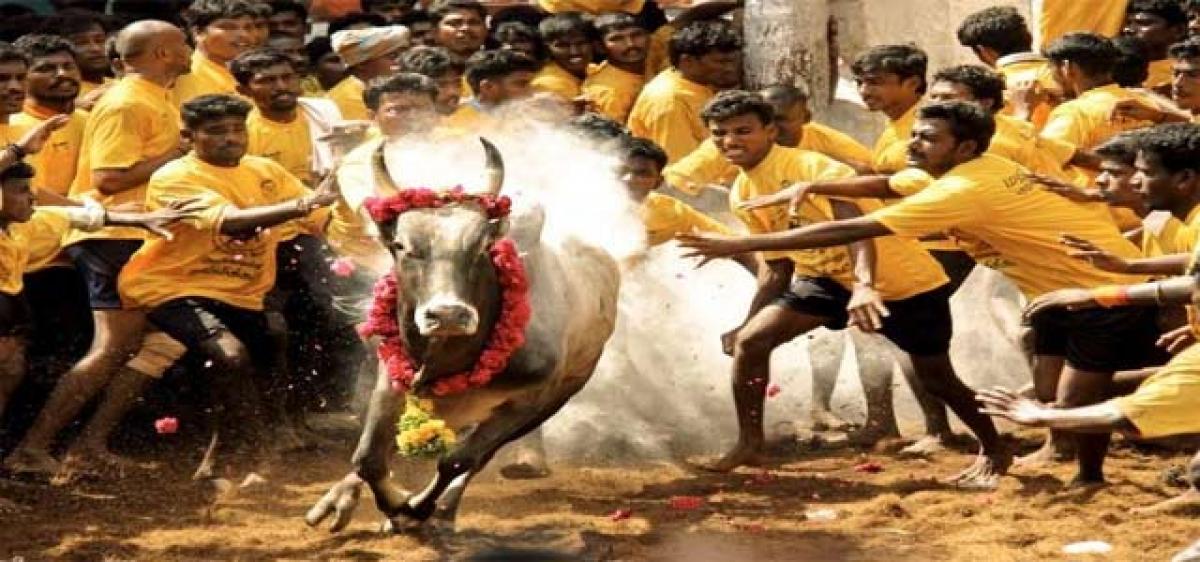 Highlights
An interesting \'Bull Fight\' is raging in Tamil Nadu over \'Jalli Kattu\' with all and sundry plunging into the game of one-upmanship. 
An interesting 'Bull Fight' is raging in Tamil Nadu over 'Jalli Kattu' with all and sundry plunging into the game of one-upmanship.
Jalli Kattu or for that matter, Tamil sentiments, have always been stoked by all the parties to score browny points over their rivals in the State.
Given the situation now - with Amma gone and the war of succession on in the AIIDMK and the change of guard at the DMK too - it is but natural for all to attempt to swell their ranks in the name of Jalli Kattu, a cruel form of bull taming.
Watching the chorus grow even as Pongal draws nearer, the Chief Minister, O Pannerselvam, wrote to the Centre seeking the promulgation of an ordinance to help remove the legal impediments so that the quintessential Tamil sport could go on unhindered.
This is neither the first time nor will it be the last that we will be seeing such a request coming from the State government as it always seeks to appease the section vociferously in favour of the sport.
There is another fear that should be lurking behind the move to seek Centre's intervention which could be that the DMK might take advantage of it to send the signals that minus Amma, this government could not represent the Tamil interests even in sports.
Those supporting it, including so-called brainy stars like Kamal Hasan, claim that these bulls are exclusively reared for the event and able-bodied youth take them on in a sport that goes back to the Sangam era.
For them it is a sport that is ingrained in their cultural tradition. What came as a surprise, however, was the highly vocal demand of Kamal Hasan who went to the extent of adding that he supported the sport as a person who played Jalli Kattu in his younger days.
There seems to be a rider here, however. Kamal was not only declaring his love for the sport but was also establishing his credentials as a native who played the sport.
It would be premature to jump to conclusions about his political intentions, yet a possibility could not be ruled out.
Kamal Hasan had been a troubled person under Amma's regime and did not see eye to eye with her on several issues despite being an Iyyengar like her.
If he is an atheist as he claims to be, he should explain the irrationality of such a demand. No rationalist would support a dastardly sport. like Jalli Kattu.
Culture is no excuse for display of such cruelty. Or was it that he was doing someone else's bidding? The BJP central leadership has been on the prowl for an acceptable face in Tamil Nadu ever since Amma's departure.
It does not want to destabilise the government for now. But, sometime back its leaders sounded that time was ripe for them to seek a clean and popular face to infuse new life into the party in Tamil Nadu.
Could the stridency in Kamal's voice hint at a different ball game altogether in a State which is almost rudderless now and is on a remote control?