India- Singapore Hackathon boost to technology, youth power: Modi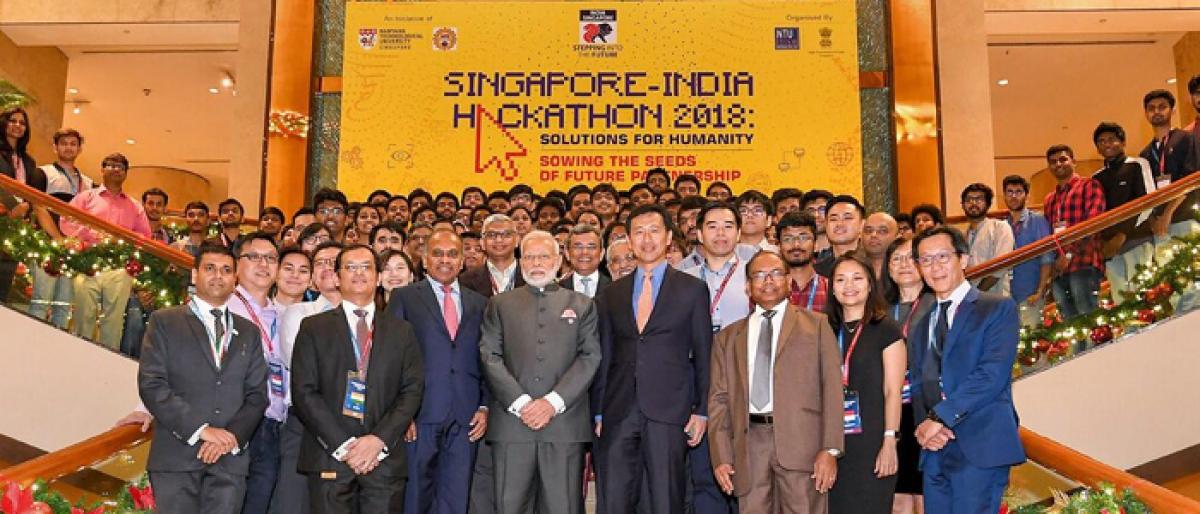 Highlights
Presenting awards to six winners of the firstever IndiaSingapore Hackathon here on Thursday, Prime Minister Narendra Modi said the platform would boost technology, innovation and youth power
​Singapore: Presenting awards to six winners of the first-ever India-Singapore Hackathon here on Thursday, Prime Minister Narendra Modi said the platform would boost technology, innovation and youth power.
The top six teams -- three each from India and Singapore -- were chosen after a final pitching session.The winning teams from India were from Indian Institute of Technology Kharagpur (IIT Kharagpur), National Institute of Technology, Tiruchirappalli (NIT Trichy) and MIT College of Engineering, Pune.
Among the winning teams from Singapore were Nanyang Technological University (NTU) and the Singapore University of Technology and Design (SUTD). "Platforms like the Singapore-India Hackathon serve as excellent opportunities for our youngsters to showcase their work. They also serve as forums to learn about pioneering innovations by youngsters from other nations and institutes. A win-win for our students!," Modi said.
A first prize of SGD 10,000, a second prize of SGD 6,000 and a third prize of SGD 4,000 was announced for each of the three winners from India and Singapore.After meeting the winners of the hackathon, Modi said he was "impressed by their passion and commitment towards solving problems our world faces".
The Prime Minister arrived in Singapore on Wednesday on a two-day visit to attend the East Asia Summit, Asean-India informal meet and the Regional Comprehensive Economic Partnership (RCEP) Summit.He also delivered the keynote address at the Singapore Fintech Festival (SFF) on Wednesday.
Twenty teams each from both countries comprising university and college students were selected for the Hackathon. Each team had three students and one dedicated mentor. They participated in the 36-hour long hackathon working on 20 problem statements.
The hackathon ended with the "Grande Finale" on Wednesday. The problem statements for the hackathon were in the areas of mapping, synchronised output of diverse social media, shared digital identity verification, effective number estimate, space management and allotment, effective learning, and personal security.