Stories of Bapatla, a Seacoast Town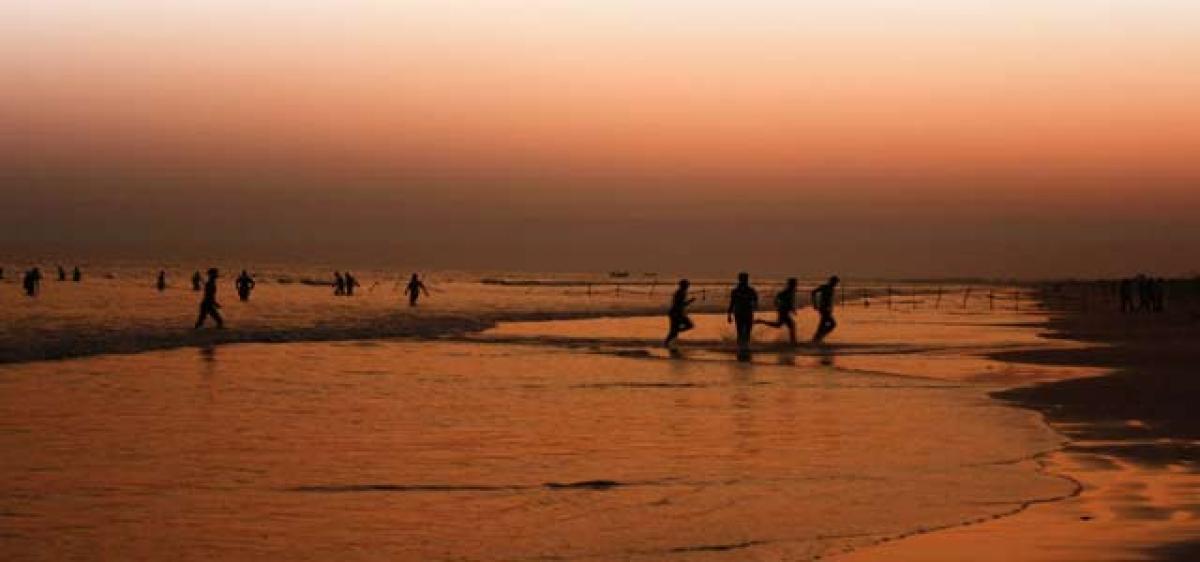 Highlights
I always wonder why Telugu literature has very much lesser association with the ocean when compared with Tamil and Malayalam literatures. 
ADVERTISEMENT
I always wonder why Telugu literature has very much lesser association with the ocean when compared with Tamil and Malayalam literatures.
Ocean plays significant role in Tamil epics 'Silappadigaram' and 'Manimekhalai' and movies. The modern Malayalam literature too has given the due importance to the sea and Thakazi Sivasankara Pillai's 'Chemmeen' is a classic example to that.
The literary pieces of Telugu that strike to me in this context are the two plays of Ganesh Pathro, 'Koduku Puttala' and 'Pavala' and nothing else.
So, a story collection entitled 'Kathatheeram' naturally ignited my enthusiasm, but soon I got disappointed to find out that it is a collection of the stories written by the natives of the sea-side town, Bapatla.
Yet again, my disappointment is due to my misconception and the book has the distinction of being arguably the first Telugu collection of the writers of a single town.
There are books like 'Amaravathi Kathalu', 'Pasalapudi Kathalu' and 'Bhattiprolu Kathalu' where the stories about a single place are collected but they were each written by a single writer.
We began to collect the stories associated with Tirupathi long ago, published them in a local journal, 'Kaliyuga Narada', but the scheme got aborted went the journal ceased to be published.
Bapatla is a town in Guntur district of Andhra Pradesh. It is a municipality and the mandal headquarters of Bapatla mandal of Tenali revenue division.
Bapatla was formerly known as Bhavapattana and Bhavapuri and theses names are derived from the Bhavanarayana temple located in the town.
Aquaculture and agriculture are the main occupations of Bapatla as it is the case of many other towns of Coastal area.
The Cairn India has conducted oil drilling onshore of Bapatla, which is a part of KG basin stretch. Suryalanka Beach near the town is one of the main touring spots of the area.
Thimmana Shyam Sundar, who collected the stories of Kathatheeram observes that the stories present a spectrum as wide as the seacoast of Suryalanka.
They were written by the writers born in Bapatla along with those who migrated to that town from different places and also those who had a concrete association with it.
They include as many as 37 stories ranging from the 1930s to the present. The discussion of the various aspects of these stories reflects the different issues related to the regionalism.
It is surprising to know that Illindila Saraswathi Devi, Beenadevi and Sriramana belong to Bapatla. The writers of Telangana claim Illindila Saraswathi Devi as she lived in Hyderabad for a long time.
Beenadevi is the pen name of the couple, B Narasingarao and Sundaramma and they are more related to Vizag as they wrote most of their stories in Vizag dialect following the example of Raavi Sastry.
Interestingly, Beenadevi's story is written from the man's point of view. Sri Ramana's writings have the flavour of Godavari districts, and his story included in the present volume, Dhanalakshmi, though it has a reference to Bezavada, can be easily related to some place in Godavari districts.
Polapraggada Satyanarayana Murty and his wife, Rajyalakshmi are also well known writers and curiously Rajyalakshmi's story is also written from male point of view. Y. Rambabu&Sai, Pothuri Vijayalakshmi, Chillara Bhavani Devi, Korrapati Gangadhara Rao, Cartoonist Jayadev and Immidisetty Koteswara Rao are some among the popular writers of Bapatla.
Akunuri Hasan's 'Chaduvukunna Manishi' has to be specially mentioned among these stories as it is an out and out Bapatla Story. It is a story about an unemployed young man and a poor young woman.
Both of them struggle for minimum necessities and are depressed. Finally the young man accepts a menial job offered by a poor fisherman and gets into a boat that sails off.
'Kathetheeram' reflects the genuine love of the editors for their motherland. It is a praiseworthy addition to Telugu short story collections and Vivika Service Society, the publisher, has to be complimented.
By: Madhurantakam Narendra
(The writer is a bilingual short story writer, novelist and poet, writing in both Telugu and English)