Rohingya refugees from Balapur getting Aadhar, raises question of security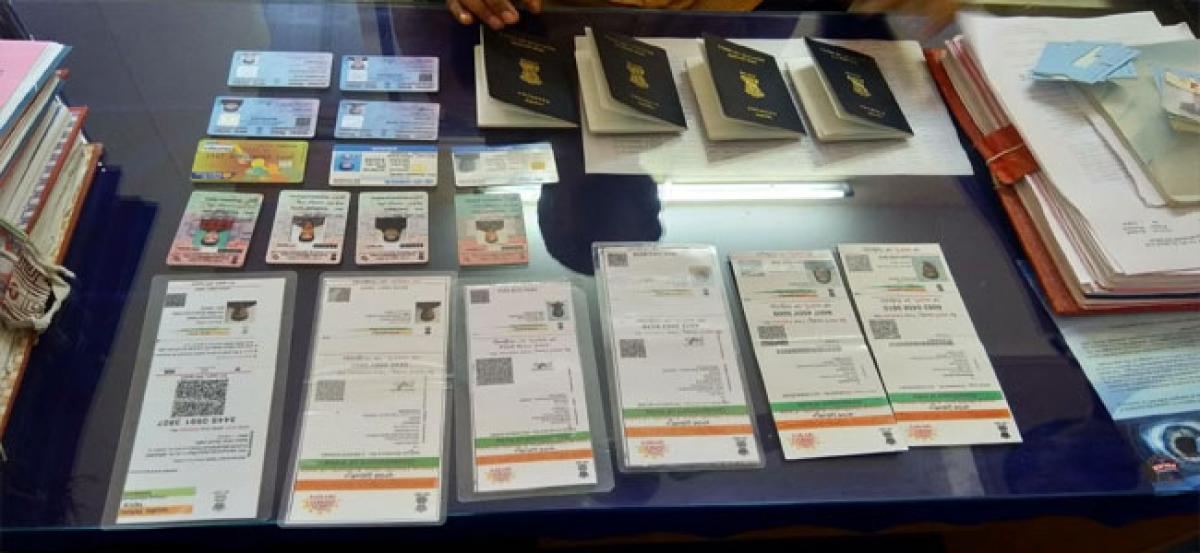 Highlights
Following the recent arrest of two Rohingya refugees from Balapur for alleged illegal procurement of Indian passport and Aadhaar card, the focus has again shifted towards the security aspect in view of growing influx of these refugees in City
Balapur: Following the recent arrest of two Rohingya refugees from Balapur for alleged illegal procurement of Indian passport and Aadhaar card, the focus has again shifted towards the 'security aspect' in view of 'growing influx' of these refugees in City. About 23 cases have been booked so far since 2015 in which 41 has been arrested and 11 remain absconding under Foreigners Act in Balapur Police Station limits alone.
According to official sources, there are about 5,000 refugees in the three zones - Hyderabad, Cyberabad, Rachakonda. But around 600 to 800 Rohingyas from Myanmar have no UNHCR (United Nations High Commissioner for Refugees) card, which considers as 'illegal migration'. Rohingyas are currently living in areas like Royal Colony, Balapur, Hafiz Babanagar, Shaheen Nagar, Barkas, which comes under Kanchan Bagh, Pahadishareef, Balapur police station limits.
The native of 'Burma' (Myanmar), as they refer their home country, the Rohingya Refugees started camping in Royal Colony in Balapur on their first arrival evading 'persecution' in Myanmar. A batch of 200 to 500 refugees arrived in the City during 2012 for the first time. The Balapur camp, now has 70 families numbering around 250 members in this single camp. However according some estimates there are about 5,000 refugees currently staying, mostly in the City outskirts.
Police officials said that they should live in India as refugees with UNHCR card but they cannot claim to be Indian citizens for staying permanently by making illegal Aadhar card, Voter IDs, Driving licence, Passport etc. He said that cases were also booked against locals for supporting them in helping them make illegal identity cards. A principal of a private school located in Shaheen Nagar, who helped two accused get fake bonafide and TC from his school claiming to be students of his school between 1996-2006 was also arrested.
"These Rohingyas were awarded one and two years of punishment. The total cases reported this year was 11. In a recent case, one Shaik Yousuf had applied for illegal passport with the help of a local who also travelled to Saudi Arabia in December 2017 on Umrah Visa," said Station House Officer of Balapur, S Mohan Reddy.
However, Bilal Hussain, a leader of Burma Rohingya Refugees camp Royal colony, refuted that anyone from his camp had not indulged in such malpractices, as the people in the camp remain satisfied with the living conditions. "We are the refugees in the country and from small boy to an old man, all work hard as labourers in surrounding areas in hotels, labour workers, sell vegetables, corns, etc. None of the culprits belong to our camp. There may be such cases but could have been indulged by the new refugees from Myanmar," he said.
Meanwhile Mazher Hussain, executive director of COVA (Confederation of Voluntary Associations) who is helping the Refugees get UNHCR card, said that while most of the refugees received cards, but some of them were left out during the process. He pointed out that those who could not get cards try to procure Aadhar and other identity cards to get some local benefits. "By getting illegal certificates they try to fulfill the mandatory formalities for getting SIM cards, open bank account and to get similar benefits enjoyed by citizens. Most of them who have been arrested does not have UNHCR cards and remained unregistered," he explained.
BY M M Farooqui