'Too bad': Trump about longtime lawyer Cohen releasing taped conversations with him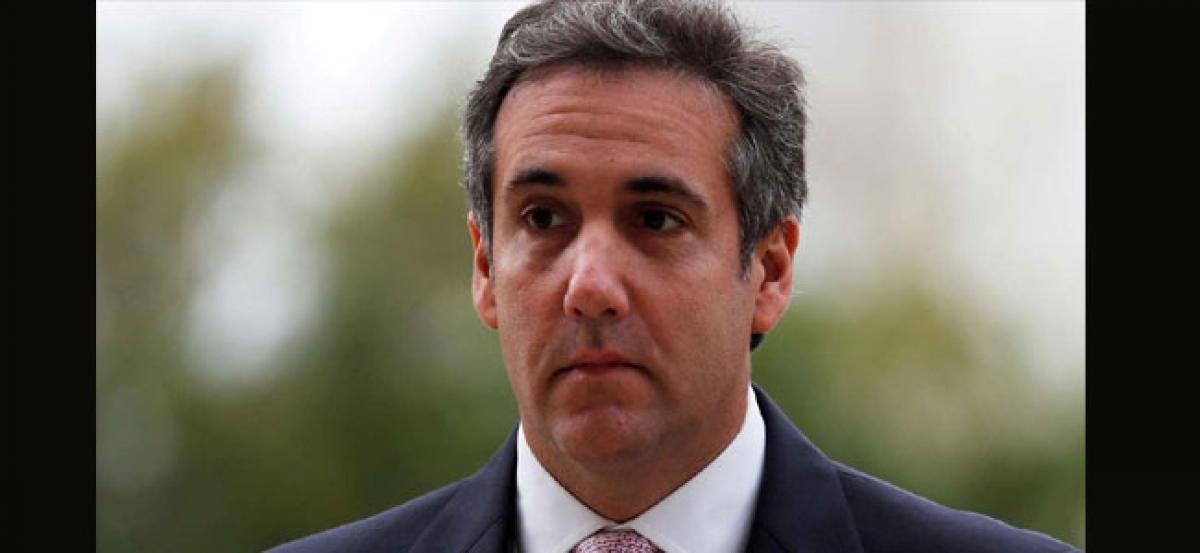 Highlights
US President Donald Trump on Wednesday expressed disbelief that his longtime personal lawyer Michael Cohen would have taped conversations with him, a day after an audio recording of a conversation between the two men was aired on US television
U.S. President Donald Trump on Wednesday expressed disbelief that his longtime personal lawyer Michael Cohen would have taped conversations with him, a day after an audio recording of a conversation between the two men was aired on U.S. television.
A lawyer for Cohen, Lanny Davis, released the recording of Trump and Cohen discussing paying for the rights to a Playboy model's story about an alleged affair with Trump and it aired on CNN on Tuesday Night. Government watchdog group Common Cause has said that the proposed payment benefited Trump's presidential election campaign and the failure to document it was potentially illegal. Some legal experts, however, say that if the payment was made for personal reasons, it would not run afoul of federal election laws.
Under U.S. election law, presidential candidates must disclose expenses, loans and campaign contributions, which are defined as things of value given to a campaign in order to influence an election. Trump lawyer Rudy Giuliani has said the proposed payment was a personal matter and not subject to campaign finance law. Before the election, Trump's campaign denied any knowledge of payment to McDougal, but the taped conversation could undermine those denials.
"What kind of a lawyer would tape a client? So sad! Is this a first, never heard of it before? Why was the tape so abruptly terminated (cut) while I was presumably saying positive things? I hear there are other clients and many reporters that are taped - can this be so? Too bad!" Trump wrote in a post on Twitter. Davis told CNN he released the tape to dispute an assertion by Giuliani that the tape would show that Trump made clear that if there were going to be a payment, it should be done by check, which would be easily traced. Giuliani has said the payment was never made. [nL1N1UJ1CK] In the recording, Trump can be heard saying "pay with cash." Cohen counters by repeatedly saying, "No."
According to Giuliani, in his transcript of the recording, Trump says on the tape: "Don't pay with cash. Check." Reuters was unable to verify the entire exchange between the two men because of the poor sound quality of the recording. Davis and Giuliani did not respond to a request for further comment. In an interview with ABC News, Davis disputed Giuliani's characterization of the call and said they method of payment was beside the point."It's not about cash versus noncash. It's about truth," Davis said on "Good Morning America" on Wednesday.
The debate over whether Trump was advocating for payments via cash or check is "irrelevant" in determining whether he violated campaign finance laws, said Joshua Douglas, a professor of election law at the University of Kentucky. "The question is whether the payment was intended to affect the campaign," Douglas said. Common Cause says the tape bolstered their argument that Trump knew about the payment and that it was potentially illegal."Denials and tweets in all caps do not make campaign finance violations go away," said Karen Hobert Flynn, president of Common Cause.
But Bradley Smith, a professor at Capital University Law School and former chairman of the Federal Election Commission, said that Trump could have considered making the payment for reasons unrelated to the election."People in Trump's position have all kinds of reasons for making these kind of payments, like family harmony or retaining commercial viability," said Bradley Smith, a professor at Capital University Law School and former chairman of the Federal Election Commission.
Karen McDougal, the model, alleges she began a 10-month affair with Trump in 2006. Giuliani denies that Trump had an affair with McDougal. Davis said the tape is among audio recordings that were seized by the FBI in a raid of Cohen's home and office in April. It was turned over to federal prosecutors last Friday, according to a filing in federal court in Manhattan on Monday. In the conversation, recorded in September 2016 at Trump Tower in New York, Cohen discusses setting up a company to make a payment apparently involving David Pecker, chief executive of American Media Inc (AMI) and a close friend of Trump's.
Cohen was proposing to pay AMI, which owns the National Enquirer newspaper, for the rights to McDougal's story. AMI had bought them from McDougal for $150,000 but AMI did not publish her story. "I need to open up a company for the transfer of all of that info regarding our friend David, so that I'm going to do that right away," Cohen says in the recording. AMI acknowledged holding those rights when it relinquished them in April after McDougal filed a lawsuit against AMI. A representative for the company did not immediately return a call seeking comment on the case, the Cohen recording or whether it held any discussion about the transfer of the rights to Trump.
Federal prosecutors in New York are investigating Cohen for possible bank and tax fraud, and for possible campaign law violations linked to a $130,000 payment to adult film star Stormy Daniels and other matters related to Trump's campaign, a person familiar with the investigation has told Reuters. Cohen has not been charged with any crime. Representatives for the White House did not immediately respond to a request seeking comment.