Amit Shah and Yogi Adityanath take a hit at Congress, after Modi.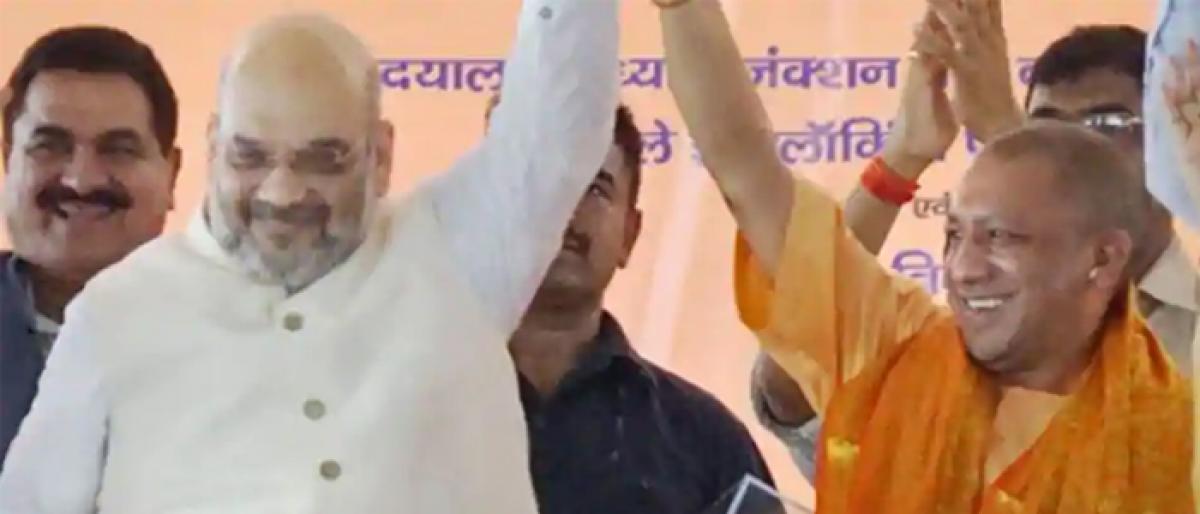 Highlights
After the Prime Minister Narendra Modi took a swing at the Congress regarding the Urban Maoist, the BJP president Amit Shah and the UP chief minister...
NEW DELHI:After the Prime Minister Narendra Modi took a swing at the Congress regarding the 'Urban Maoist', the BJP president Amit Shah and the UP chief minister Yogi Adityanath on Saturday too accused it of "supporting" Naxalites in Chhattisgarh.
While addressing an election rally in Chhattisgarh Raipur, the BJP president asked how can the Congress talk of encouraging the development within the state and also at the same time support the Naxalites who are responsible for the violence that is being promoted in the region.
"How can the party, which sees Naxalites as revolutionaries, think for the benefit of the state," Shah had asked after releasing the BJP's election manifesto for the poll-bound in Chhattisgarh.
The BJP president has given credit to the chief minister Raman Singh for successfully tackling the Naxalite problem in the state. "Raman Singh's government has changed the state in the past 15 years and has been successful in containing the Naxalites," he added.
Meanwhile, in Uttar Pradesh the chief minister Yogi Adityanath has reflected similar views at a seperate rally in Chhattisgarh. "Congress had promoted Naxalism in this region for their own selfish motives. BJP government is taking strict measures to combat it (the problem)," Adityanath said in Chhattisgarh's Lormi.
"Congress toyed with national security for their political benefits. Be it Chhattisgarh, Jharkhand, north-eastern states or Kashmir, it (Congress) did politics at the cost of national security. But for BJP, national security is the top priority. We never tolerated threat to national security. No one has the liberty to toy with national security," he said.
"Urban Maoists live in AC surroundings, move around in big cars and their children study abroad, but they ruin the lives of our poor adivasi youth here through remote control. Why is Congress supporting these Urban Maoists?" the Prime Minister had said.
Following the statement that was given by PM Modi, the Congress had hit back, saying that the PM is staring at the defeat in Chhattisgarh and Madhya Pradesh and is resorting to such remarks to console his "abject failure" and "weak-kneed" approach towards the fighting Naxalites.
Randeep Surjewala the Congress chief spokesperson, attacked the Prime Minister and said that he made "pro-Naxalite comments" when he was the Gujarat chief minister. He had also targeted the Chhattisgarh chief minister Raman Singh over his remarks that was made in 2015 that Naxalites are "sons of the soil" and would be welcomed back in the mainstream as children.

Subscribed Failed...
Subscribed Successfully...