Face inquiry in data theft case: KTR to CM Naidu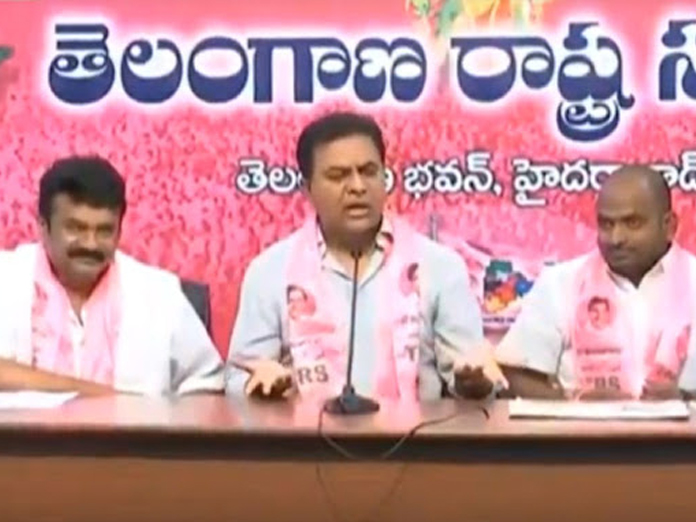 Highlights
TRS Working President K T Rama Rao on Monday asked the Andhra Pradesh Chief Minister N Chandrababu Naidu to face inquiry and come clean if they have not done anything wrong in the data theft case
Hyderabad: TRS Working President K T Rama Rao on Monday asked the Andhra Pradesh Chief Minister N Chandrababu Naidu to face inquiry and come clean if they have not done anything wrong in the data theft case.
Addressing a press conference here at Telangana Bhavan with Ministers T Srinivas Yadav and V Sinivas Goud and others, K T Rama Rao said that one whistle blower Lokeshwar Reddy filed a complaint with the Telangana police alleging data theft by an organisation stealing the individual data of people of Andhra Pradesh. Telangana police has booked the case and inquiring. "Why should TDP leaders have fears for a case against a private company? Face the inquiry and come clean. If you have not done anything wrong. let them stand up for scrutiny or a probe," said Rama Rao.
KTR alleged that the TDP leaders have prepared dummy profiles in social media alleging Telangana government was stealing data. He said that these types of things would not work in present day politics where social media is active. He said that both Chandrababu Naidu have habit of committing mistake and getting caught and it was evident in cash for vote case where the audio tapes had the voice of AP CM. He alleged that the AP police have abused the whistle blower in Telangana. What is the role of AP police in Telangana, he questioned.
The TRS leader also questioned the TPCC President N Uttam Kumar Reddy as to how much was paid to purchase other party leaders into Congress. "A sitting BJP MP in Uttar Pradesh Savitri Bai Phule has joined Congress in the presence of its president Rahul Gandhi. How much the Congress has paid to the BJP MP. How much the Congress party has paid to the TRS sitting MP Konda Vishweshwar Reddy, MLC K Yadava Reddy, R Bhoopati Reddy and others?" He also said that when the Congress leaders were staging dharna, their party MLA K Rajagopal Reddy said that there was no enthusiasm in the party and also there was leadership crisis.
Rao said that the two Congress MLAs have openly written a letter stating that they are joining TRS for solving the problems in the tribal areas.
The TRS leader said that the party has enough strength to win all the five seats in the council elections. "We have strength and with the second preferential votes we are going to win all the five seats," said Rao.
Subscribed Failed...
Subscribed Successfully...