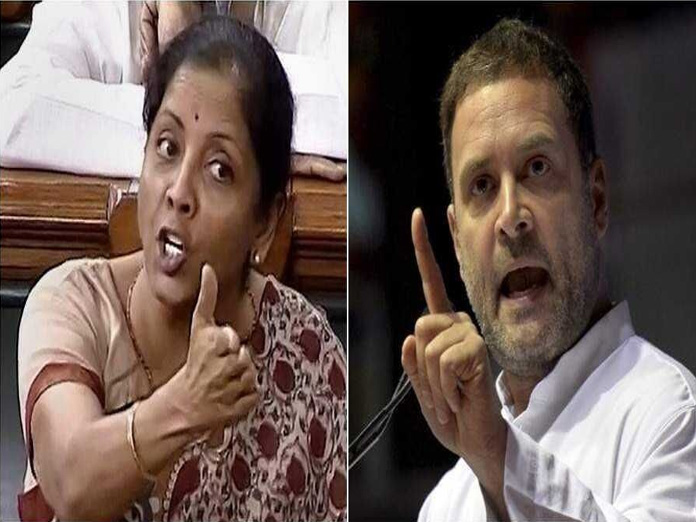 Highlights
National Commission for Women NCW rightly took suo moto cognizance by sending notice to the President of largest oppositionparty for his unthoughtful...
National Commission for Women NCW rightly took suo moto cognizance by sending notice to the President of largest opposition-party for his unthoughtful remarks on the Indian Defence Minister just because she is a lady. Union Defence Minister is dutybound to put before Parliament, the stand of government on matters relating to her ministry.
Unfortunately, such childish remarks are coming from a person whom his party-men dream for being next Prime Minister of India. It is noteworthy that not even a single person from his party came forward either to support or oppose him for such remarks which rather should have been condemned by Chairperson of UPA alliance who also happens to be his mother.
India is proud for having a powerful woman as Prime Minister of the country who was no one other than grand-mother of Congress President. Indira Gandhi was admired as Durga by the then Opposition Leader on her leading nation for a historic win over Pakistan in 1971 Indo-Pak war. Politics and controversies apart, Nirmala Sitharaman is also exhibiting her boldness and talent for being Defence Minister of the country.
- Madhu Agrawal, Delhi
---
Rahul is right
It is ridiculous to note that the National Commission for Women has issued a notice to Congress President Rahul Gandhi over his recent remarks on union minister Nirmala Sitharaman. NCW claimed that Rahul Gandhi's statement was pathetic, sexiest and misogynistic. It seems NCW is unnecessary dragging the gender of minister in to this issue.
What is wrong in calling a woman – a woman. In fact, Rahul Gandhi called "Mahila" in Hindi and meaning of mahila is honourable lady. Then why NCW is objecting on Rahul Gandhi's comments?. He is grandson of Iron lady, Indira Gandhi and till now he never talked against women in his speeches or in Twitter. He is not against women and he has also appointed a transgender representative in important position.
In fact, Rahul Gandhi has rightly alleged that PM Narendra Modi ran away from Rafale debate in parliament for two- and-a- half hours leaving Nirmala to defend him. PN Modi is digging a hole from the mountain and comments that "this is an insult to the women in the country" are baseless. But Rahul Gandhi has rightly commented that "with all due respect Modiji in our culture respect for women begins at home'. Many times leaders like Sharad Yadav commented on women hood and insulted women with his sexist remarks but why NCW has not taken any objection on his remarks?.
- Zakir Hussain, Kazipet
Subscribed Failed...
Subscribed Successfully...