HC appoints amicus curiae to look into prisoner deaths in TN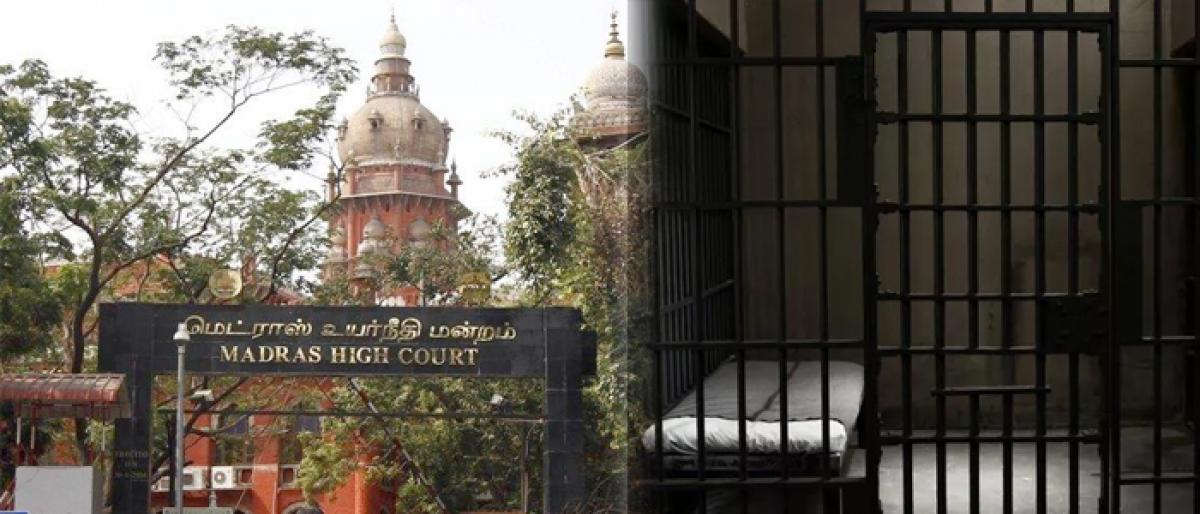 Highlights
Expressing dissatisfaction with a Tamil Nadu government report on deaths of prisoners, the Madras High Court has observed that a detailed study is needed to improve medical and other facilities in jails and appointed senior advocate R Vaigai as amicus curiae to assist the court
Chennai: Expressing dissatisfaction with a Tamil Nadu government report on deaths of prisoners, the Madras High Court has observed that a detailed study is needed to improve medical and other facilities in jails and appointed senior advocate R Vaigai as amicus curiae to assist the court.
A bench comprising Justices S Manikumar and Subramonium Prasad passed the order on a PIL petition initiated by it on its own as directed by the Supreme Court in 2017.
The Tamil Nadu Home Department in its report said that between 2012 and 2016, a total of 109 prisoners died of illness and old age, two due to accidental falls, and 22 others allegedly committed suicide.
The bench noted that the report neither mentioned whether the prisoners who passed way due to illness died inside the prison or not nor indicated the medical facilities available in jails.
"Besides, the number of prisoners who committed suicide appears to be more," it observed.
The court appointed Vaigai as the amicus curiae and ordered the governments of Tamil Nadu and Puducherry to furnish to her all particulars on the medical facilities available in prisons as well as the health and other related schemes for inmates as mentioned in the apex court judgement.
It directed Tamil Nadu Prisons ADGP Ashutosh Shukla to nominate a person to co-operate with the senior advocate and posted the PIL for further hearing on October 8.
The bench said considering Article 21 of the Constitution, which envisages right to life with dignity, and taking note of the reports, it was of the view that the issue required detailed study.
The Supreme Court, in its September 15, 2017 judgement, had requested the Chief Justice of the Madras High Court to register the PIL petition with a view to identifying the next of kin of prisoners who had admittedly died unnatural death between 2012 and 2015 and even thereafter as revealed by the National Crime Records Bureau, and award suitable compensation.