Youth Cong hold protest against MJ Akbar, demand resignation over #MeToo allegations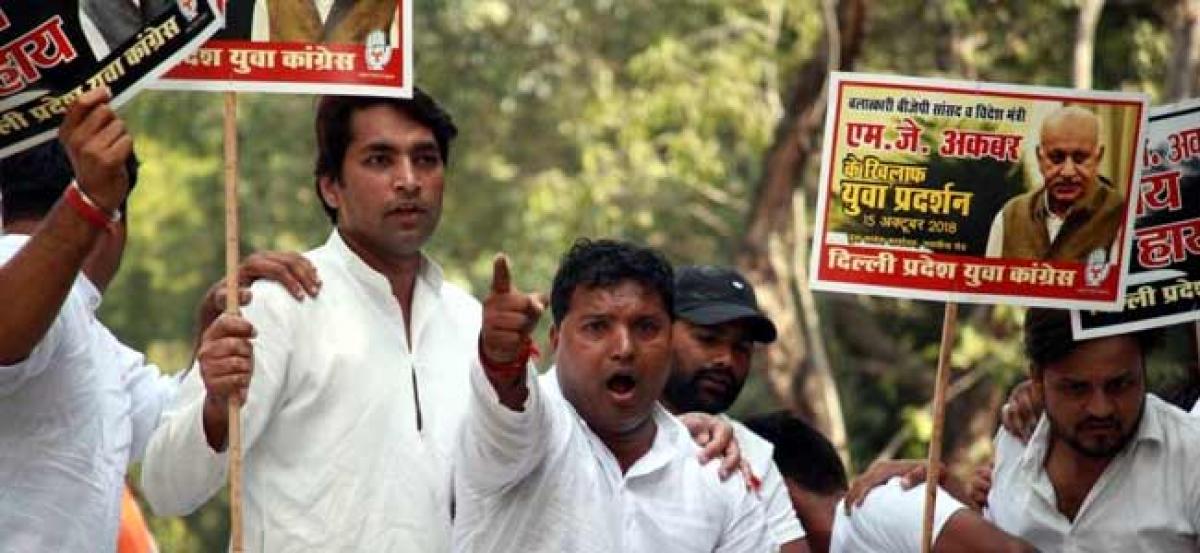 Highlights
The Youth Congress activists on Monday staged a protest near the residence of Union minister M J Akbar, demanding his immediate resignation over allegations of sexual misconduct by several women journalists
New Delhi: The Youth Congress activists on Monday staged a protest near the residence of Union minister M J Akbar, demanding his "immediate resignation" over allegations of sexual misconduct by several women journalists.
The activists gathered at Teen Murti roundabout raised slogans against the junior foreign minister and tried to march towards his residence when they were stopped by the police. A few protesters who tried to march ahead towards police barricades were detained.
"The Indian Youth Congress (IYC) is protesting against M J Akbar for his sexual misconduct and harassment of journalists. As many as 10 women journalists have come forward and detailed sexual harassment by him," the outfit said in a statement.
Leading the protesters, vice president of IYC BV Srinivas demanded Akbar's "immediate resignation" saying he has no "moral right" to continue in his post.
"No one in Indian politics till now has the kind of sullied image as M J Akbar," he said in the statement.
Despite "serious allegations" against the minister, the Bharatiya Janata Party (BJP) has maintained a "studied silence" on the matter, he alleged. The ruling coalition of NDA led by the BJP which had made tall promises of " Beti Bachao, Beti Padhao" cannot and must not be allowed to shield a man of "questionable conduct," the IYC statement added.
Akbar on Sunday termed the allegations against him as "false, fabricated and deeply distressing" and said he was taking appropriate legal action in the matter.
His comments followed those by his party's, with the BJP saying on Monday that Akbar has given his version on the row and that it is not about whether the party agrees or disagrees with him.