Indian economy would overtake UK in couple of years: Union minister Smriti Irani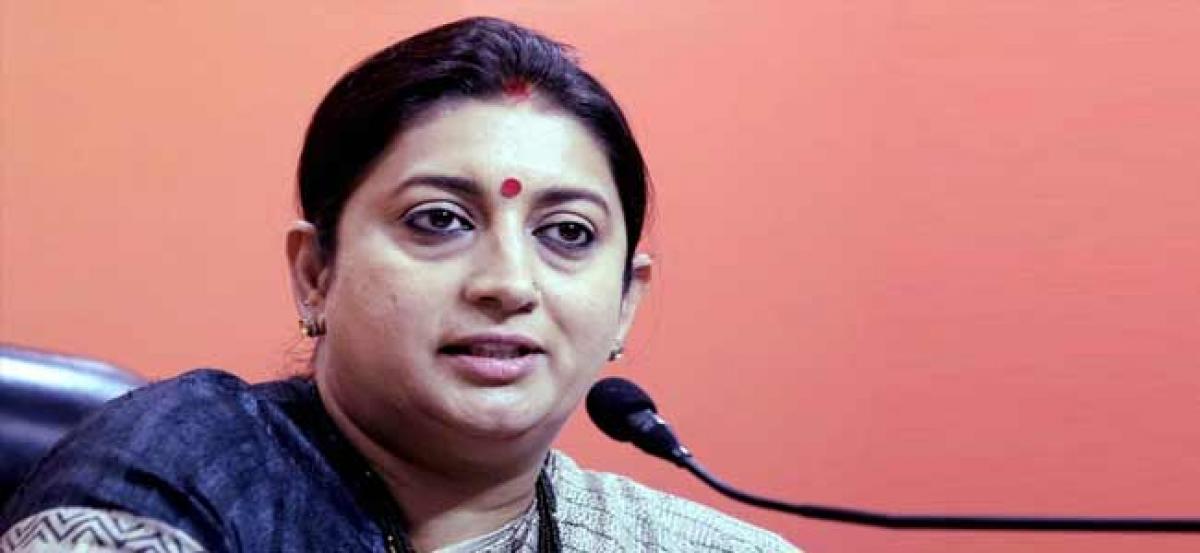 Highlights
Union minister Smriti Irani on Monday said the Indian economy would become bigger and stronger than the British economy in the next couple of years She said the country was moving towards economic empowerment under Prime Minister Narendra Modi
Raipur (CG): Union minister Smriti Irani on Monday said the Indian economy would become "bigger and stronger" than the British economy in the next couple of years. She said the country was moving towards economic empowerment under Prime Minister Narendra Modi.
"It is being considered at the global level that India has strengthened economically. It is also being considered that, in the next couple of years, India is going to be a stronger and bigger economy than the British who had ruled our country," the Textiles Minister said while addressing a press conference here. Irani was in Raipur for campaigning for the state assembly polls scheduled to be held in two phases on November 12 and 20.
"This (the growth of the economy) could be possible because of the leadership of Prime Minister Narendra Modi and through the support of the welfare schemes launched by the NDA government, along with the schemes launched by the BJP-ruled states," she said, adding that "We have gradually moved towards economic empowerment and building a new India". Irani alleged that the country was under a huge debt under the erstwhile Congress-led UPA government.
"In comparison to the economic condition which the previous UPA government had left in 2014–at that time the country was under huge debt and facing economic crises due to huge number of scams—today the BJP-led NDA government has been able to take the country out of such situation and is striving ahead with the dream of achieving a new India," she said. Responding to a query on Uttar Pradesh Congress president Raj Babbar's remarks on naxalism which he had made in Raipur, Irani said, "it was a matter of shame for the Congress as its a leader sees revolution in killing of innocent people and security forces"
"If Raj Babbar sees revolution in the killing of innocent people, those (naxals) who dare to kill our security personnel, who take law in their hands, then it is a matter of great shame for the Congress. "I am surprised that senior Congress leaders have not yet dismissed such statements in the public domain and their silence gives encouragement to such statements. The Congress should reject such statements at least in the name of national security and upholding the Indian Constitution. Such statement should be condemned widely," said the minister.
Irani was referring to the remarks made by Babbar on November 3 when he had said that Naxals had launched "revolution" which cannot be stopped through guns, and the menace should be resolved through talks. Babbar had said that what he meant was that the issue can be resolved through talks with those "who call themselves revolutionaries by indulging in acts of terrorism".