India vs England: Batsmen the key as India look to reverse fortunes at Lord's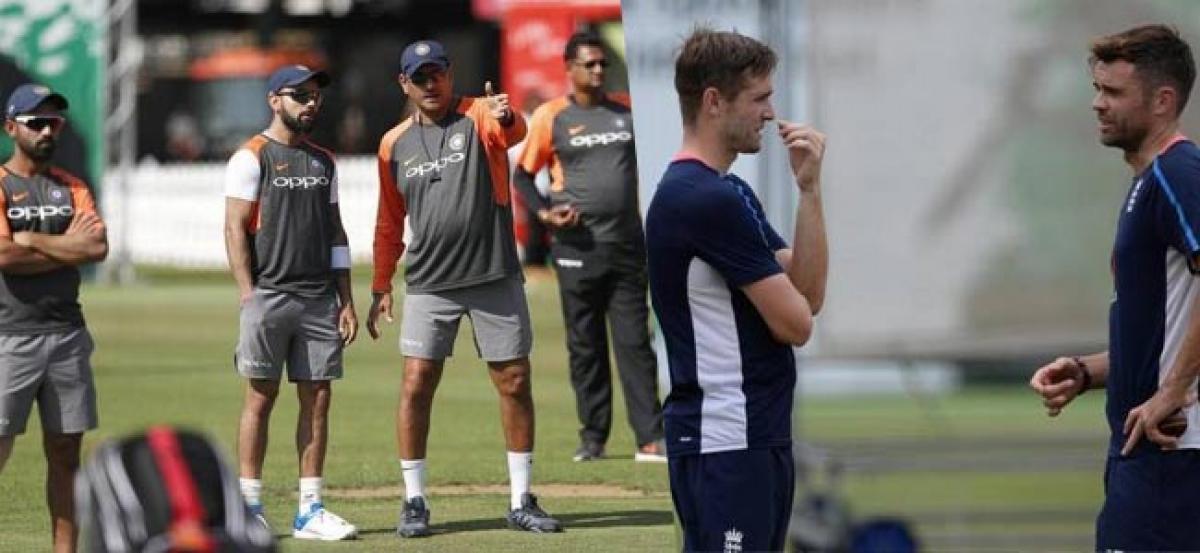 Highlights
The Indian cricket team would expect its floundering batsmen to take more responsibility in pursuit of a serieslevelling victory in the second Test against England, starting on August 9, at the Lords
The Indian cricket team would expect its floundering batsmen to take more responsibility in pursuit of a series-levelling victory in the second Test against England, starting on August 9, at the Lord's.
If captain Virat Kohli had got support from his batting colleagues in Birmingham, the scenario would have been completely different. The world number one Test side came close to taking the lead but fell short by 31 runs. The mood in the Indian dressing room, though, is quite upbeat.
Two days before the game, there was healthy amount of grass on the Lord's pitch. It is expected that the groundsmen will shave a few bits off before the first ball. But even if they don't, the general expectation is that the pitch would turn out to be quite dry.
Rethink bowling strategy
This has also prompted a rethink in the Indian camp as to what bowling strategy they would want to go in with. Despite India's overall failed batting effort at Edgbaston, bowling coach Bharat Arun ruled out playing an extra batsman here. He also mentioned that the second spinner could come into contention. In that scenario, Umesh Yadav can expect to be left out with Ishant Sharma, Mohammed Shami and Hardik Pandya handling the pace duties.
Toss-up for the second spinner's slot is an interesting one. The last time Ravindra Jadeja played at the Lord's (in 2014), he took 3-99 in two innings but scored 68 in the second innings that underlined his value with the bat and helped India put on a match-winning total.
It isn't easy to overlook Kuldeep Yadav either. There is a strong appreciation for his talent in the Indian camp, and it was once again noticeable in the nets as he bowled to skipper Virat Kohli on August 7, beating him with drift and turn on more than a couple of occasions. He got thumbs-up and smiles of admiration from the star batsman. In dry English conditions, wrist spin is a premium weapon, particularly against a line-up that hasn't faced Kuldeep much (barring Joe Root, Jonny Bairstow and Jos Buttler).
Experimentations
Away from bowling attack permutations, Kohli will face a tougher dilemma regarding the batting line-up. The skipper played Shikhar Dhawan ahead of Cheteshwar Pujara at Edgbaston, fitting-in KL Rahul in the eleven appropriately. Experimentation with the number three spot is nothing new for this team management.
Back in 2014-15, the Kohli-Ravi Shastri combination first played around with number three, when Rohit Sharma was picked ahead of Pujara for the fourth Test against Australia at Sydney. That experiment lasted two Tests against Bangladesh and Sri Lanka (first Test at Galle), before Sharma was moved down the order with Ajinkya Rahane batting at number three in the next two Tests.
Pujara returned at number three in the home series against South Africa (2015) and status quo was maintained for six Tests, before he was dropped again for the third Test in West Indies (St. Lucia, 2016). There, much to everyone's surprise, Kohli himself batted at number three, scoring 3 and 4 in two innings.
The common aspect among these previous changes was Pujara's poor run of form (in Australia, he had scored 201 runs in three Tests before being dropped) or strike-rate (in the second Test at Jamaica, he scored 46 runs off 223 balls at 28.93 before being dropped).
The question for the team management to answer is if they want Pujara — someone who has played county cricket this summer — back in the playing eleven. Dhawan only managed 26 and 13, while Rahul scored 4 and 13, yet nothing has really changed since Birmingham.
According to the Indian camp, Edgbaston was a difficult pitch to bat on and this experiment could yet continue. Even so, with 36 different playing XIs in as many Tests under Kohli's captaincy, the Indian line-up is begging for some consistency.
England's simple permutations
In comparison, England's permutations are far simpler. Dawid Malan is dropped and Ben Stokes is unavailable due to his on-going court case for affray. In that light, Joe Root only has to decide if he wants two spinners or not.
Moeen Ali will walk into the side and take up one of those vacant spots. It will also mean a Lord's debut for 20-year-old Oliver Pope, as three pacers — James Anderson, Stuart Broad and Sam Curran — should be enough on a dry, spin-friendly wicket.
The greater concern for the hosts is their recent record at the 'Home of Cricket.' Going back to India's last visit here, England have only won three out of their last nine Tests at this hallowed ground.
Teams:
India: Virat Kohli (c), Shikhar Dhawan, Murali Vijay, KL Rahul, Cheteshwar Pujara, Ajinkya Rahane, Dinesh Karthik (wk), Rishabh Pant, Karun Nair, Hardik Pandya, R Ashwin, Ravindra Jadeja, Kuldeep Yadav, Ishant Sharma, Umesh Yadav, Shardul Thakur, Mohammed Shami, Jasprit Bumrah.
England: Joe Root (c), Alastair Cook, Keaton Jennings, Jonny Bairstow, Jos Buttler, Oliver Pope, Moeen Ali, Adil Rashid, Jamie Porter, Sam Curran, James Anderson, Stuart Broad, Chris Woakes.
Match starts at: 3.30 pm IST.