Sailu Noor pockets double in the fourth Andhra Pradesh State ranking table tennis tournament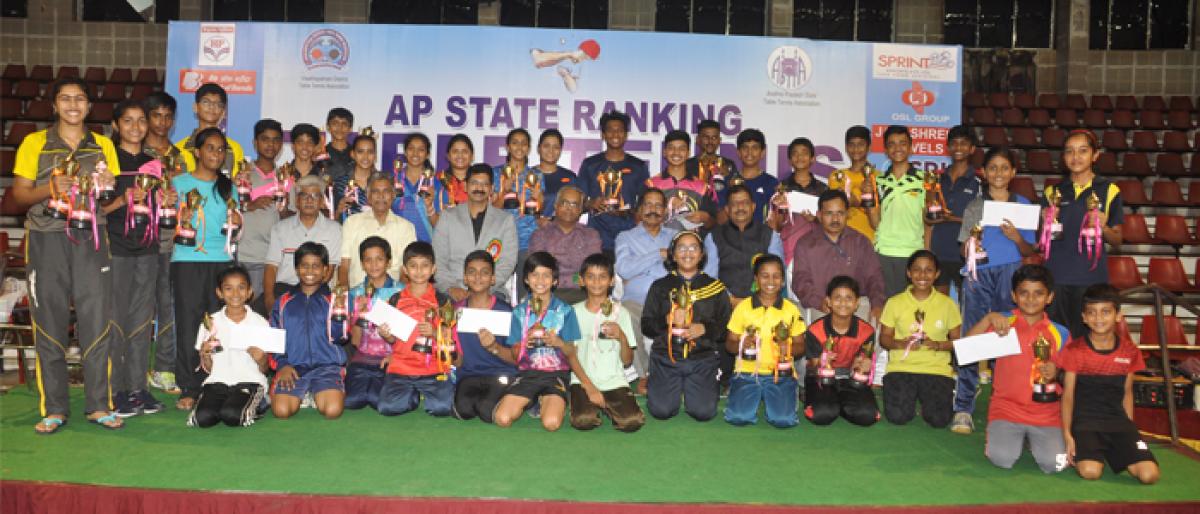 Highlights
Vijayawada girl Sailu Noor Basha lived up to expectations while winning the women and youth girls singles titles in the fourth Andhra Pradesh State ranking table tennis tournament, conducted by VDTTA, at Swarna Bharadhat Indoor Stadium here on Sunday
Visakhapatnam: Vijayawada girl Sailu Noor Basha lived up to expectations while winning the women and youth girls singles titles in the fourth Andhra Pradesh State ranking table tennis tournament, conducted by VDTTA, at Swarna Bharadhat Indoor Stadium here on Sunday.
Results: All singles finals-Men: M Kalaivanan (VJA) bt K Pavan Kumar (VJA) 11-6, 11-2, 11-6, 11-9;
Women: Sailu Noor Basha (VJA) bt TL Harshitha 11-8, 11-4, 11-6; Youth boys: K Pavan Kumar (VJA) bt L Akshith (VJA) 11-8, 8-11, 11-13, 11-7, 11-8; Youth girls: Sailu Noor Basha bt R Kazol Sunar (VJA) 11-3, 11-3, 1-3; Junior boys: L Akshith bt Ch Nitish Varma (KKD) 11-8, 11-5, 11-7; Junior girls: R Kazol Sunar bt S Mahitha Choudhary (VJA) 7-11, 11-9, 11-9, 11-8;
Sub-junior boys: L Akshith bt T Suryateja (KKD) 11-9, 6-11, 7-11, 11-9, 11-8; Sub-junior girls: B Shreshtha (ATP) bt P Charvi (RJY) 16-14, 8-11, 11-8, 11-5; Cadet boys: P Maheedharvarma (VSP) bt A Shri Kaushik (KKD) 13-11, 4-11, 12-10, 11-4; Cadet girls: N Dohadhavathi (VJA) bt T Sahitha Raj (VSP) 11-7, 11-5, 11-5.
Interested in blogging for thehansindia.com? We will be happy to have you on board as a blogger.