Great platform to test others in Dhoni's absence: Rohit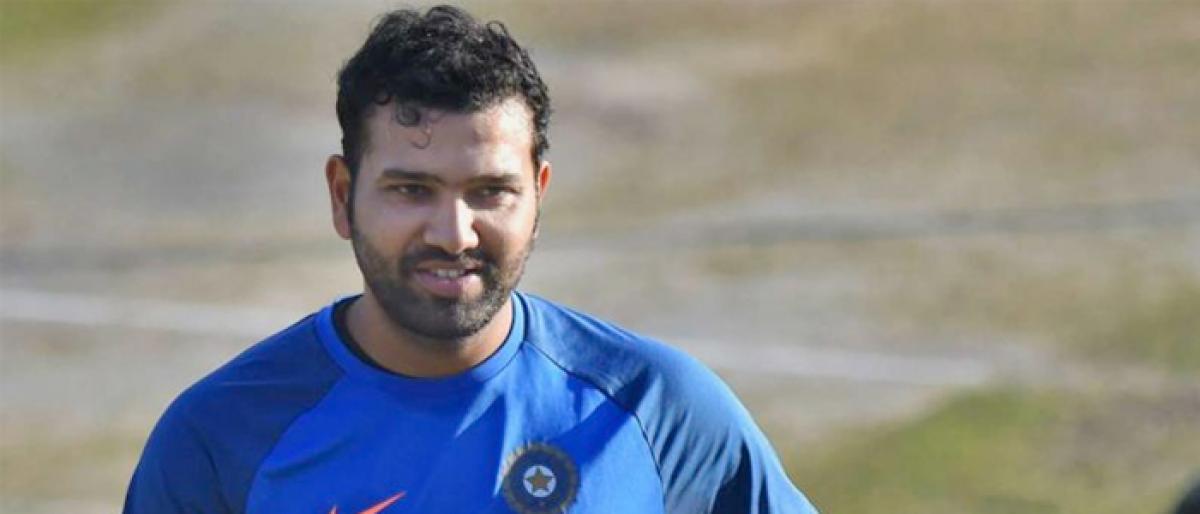 Highlights
Indias stand in captain Rohit Sharma on Saturday said that Mahendra Singh Dhoni was rested for the T20 series to give others a chance and see what they have got to offer keeping in mind the 50 over World Cup next year
Kolkata: India's stand in captain Rohit Sharma on Saturday said that Mahendra Singh Dhoni was rested for the T20 series to give others a chance and see what they have got to offer keeping in mind the 50-over World Cup next year.

Dhoni was not picked for India's Twenty20 squad for the three-match series against the West Indies and, more significantly, India's tour of Australia.

Regular skipper Virat Kohli, who also opted out of the series, had said after the fifth and final One Day International (ODI) few days back that Dhoni remains an integral part of the team.

But it is widely believed that the 37-year old is being phased out owing to his poor run since the turn of the year.

Stating that his experience will be missed, Rohit said it gives the team management an opportunity to see what young Rishabh Pant and seasoned campaigner Dinesh Karthik have got in their kitty.

"His (Dhoni's) experience will obviously be missed. It gives an opportunity to other guys to express themselves," Rohit said on the eve of the first T20I at the Eden Gardens here.

"All these guys, who are part of this team, have done well for their respective state teams. We cannot go to the World Cup with limited resources, we need to have options. This gives you a great platform to try and test all these guys," Rohit pointed out.

"Dhoni has been such a massive player for us, over the years. His experience in the middle will be missed but again Rishabh (Pant) and Dinesh (Karthik) have great opportunity to come and perform and see what they are capable of as well," he added.

Besides leading India to their maiden and only T20 World Cup triumph in 2007, Dhoni is also the most capped player in the shortest format, featuring in 93 of India's 104 matches.

In 2018, Dhoni, who has also captained India to 50-over World Cup glory in 2011, managed only 245 runs at 27.22 in 17 matches.

India picked three uncapped players (Krunal Pandya, Shahbaz Nadeem and Khaleel Ahmed) for this and the Australia series, aside from bringing back the likes of Shreyas Iyer and Washington Sundar to the squad.

Rohit said it's important to see beyond the 15-odd players who make the squad keeping in mind the World Cup, therefore those who are consistently doing well need to be given a chance.

"Resting players is also necessary. Keeping in mind the work load, the World Cup ahead. We have to take those necessary steps. We have to see the guys who are knocking the door and what they bring to the table," said Rohit.

"Come the World Cup, not just the 15 players we got to see what is outside the 15 players we have. There are a lot of new faces in the team. Shahbaz Nadeem has come in the team for the first time, Krunal (Pandya) was part of the team but didn't get a game. These are the few names who have come and we got to see them what they have in their armoury," the 31-year-old expressed.

On the West Indies team, who are the current World T20 champions and have the likes of Keiron Pollard and Andre Russell back in the mix, Rohit said they are one of the strongest teams going around and India have to put their best foot forward to win.

"They are a dangerous team. They are defending champions of T20 cricket. They are one of the strongest teams in the world going around, when it comes to T20 cricket. We have seen that in the past," opined Rohit.

"They have played a lot of T20 cricket and have their own league like we have. They have more experience and it is the format they enjoy the most. They have had success as well in this format. So they will be a strong opposition without a doubt and we have to play good cricket to beat them," the Indian opener said adding: "It won't be easy for us to go and take the victory. We have to play our best cricket and focus on our team. We do understand what they bring to the table."

Rohit also added that he is enjoying his trysts with captaincy and trying to do his best in that role.

"It has helped me overall when it comes to captaincy. I have enjoyed captaincy whenever I have got an opportunity and it does bring a sense of responsibility when you lead the side you always want to lead from the front," he concluded.